From Phố Châu to Pom Coong Village
Gitte and Gieter had their flight out of Hanoi. Still, a few days to kill so I invited them to drive with me to Pom Coong Village and leave the bike later at my friends Hotel in Ninh Binh. They wanted to give their bike to a friend but he was not in Vietnam for a few more days. That way he can pick it up in Ninh Binh. No need for them to drive into Hanoi with the bike – taking the bus instead and no need to find safe parking for the bike till their friend gets to Hanoi.
Their bike was fine for the whole trip only the rack was not good. Two heavy big backpacks and a small one was way too much. In the morning they when to a welding place to get it fixed again but the way it was done I gave it only 30-40 km before it would break again. We said Adios to Trần from the Ly Ha Hotel.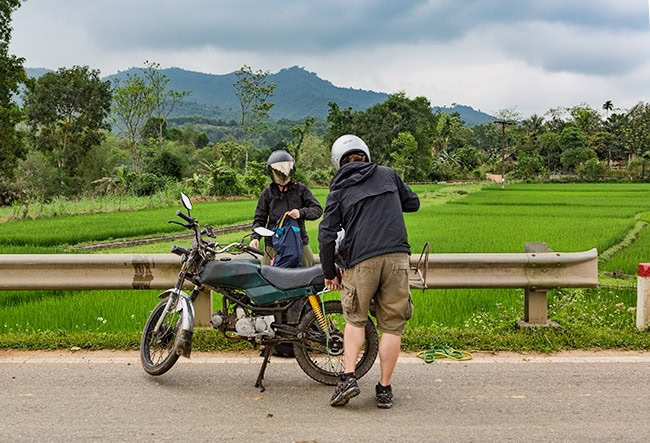 Sure enough, the rack broke after a few kilometers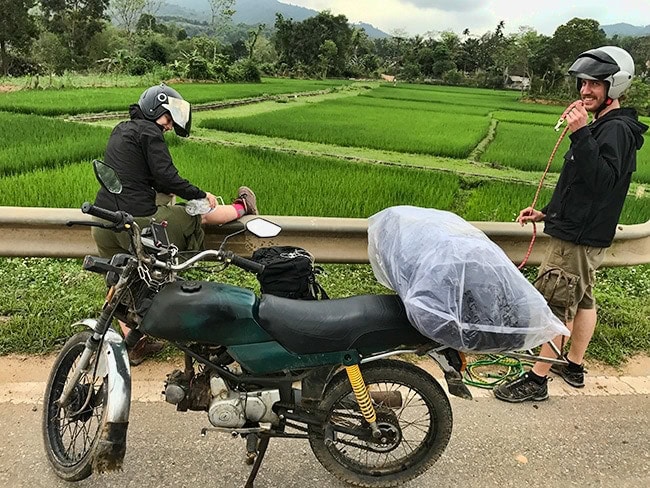 Gitte did the rookie mistake. Down from the bike on the wrong side = you will burn your leg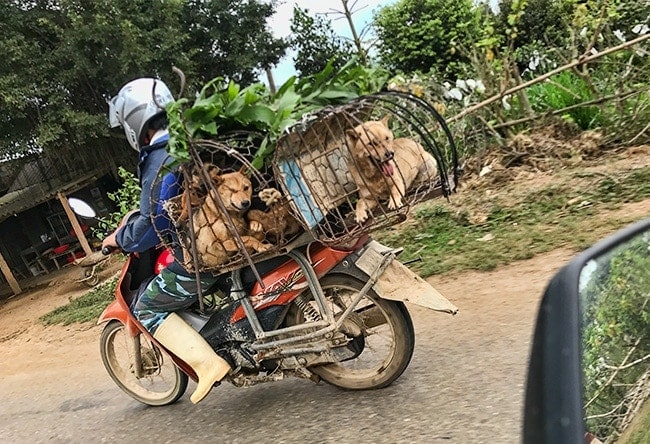 Fresh Meat on the way to the butcher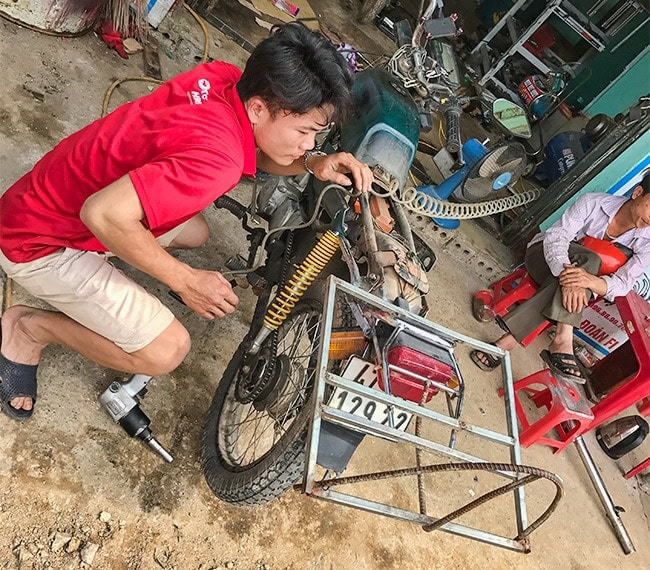 The kids never listen so we had to stop at a small town in the middle of nowhere to get the rack fixed. Proper this time! I explained everything to the guy from the motorbike repair place. It is nice to talk to them when they do not speak English. We need this brrrrrrrr and this brrrrrrrr after that we need two pipes about thaaaaat long and you bzzzzzzz it here and here. He nods and hops on the bike to get a cutting tool and some pipe. A few beers later the bike was ready for new adventures.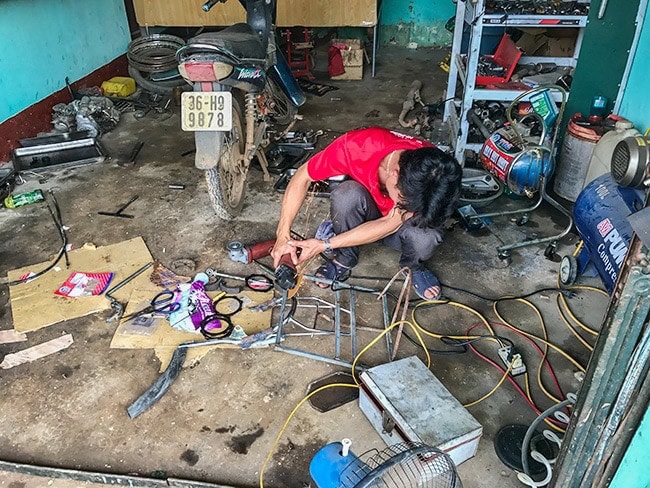 Get down to business: Brrrrrrrrr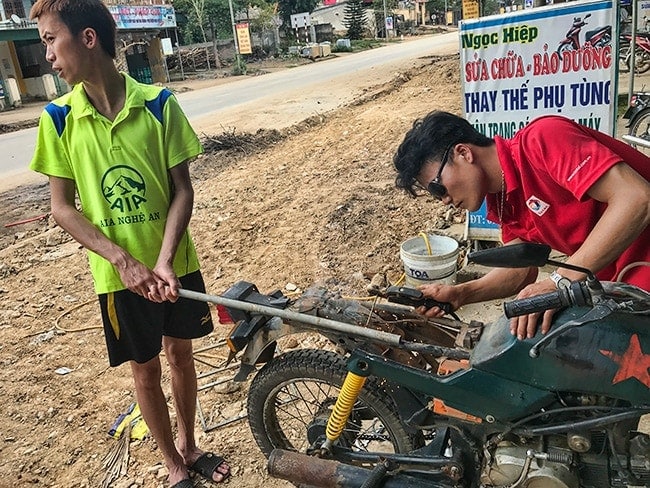 Why use welding glasses when you have a fake Ray Ban? Bzzzzzzz, bzzzzz, bzzbzzzbzz

Ready to go

Traditional Long House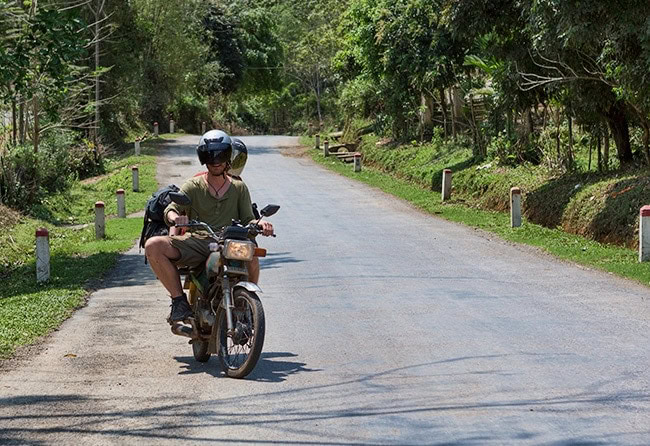 Fighting the hills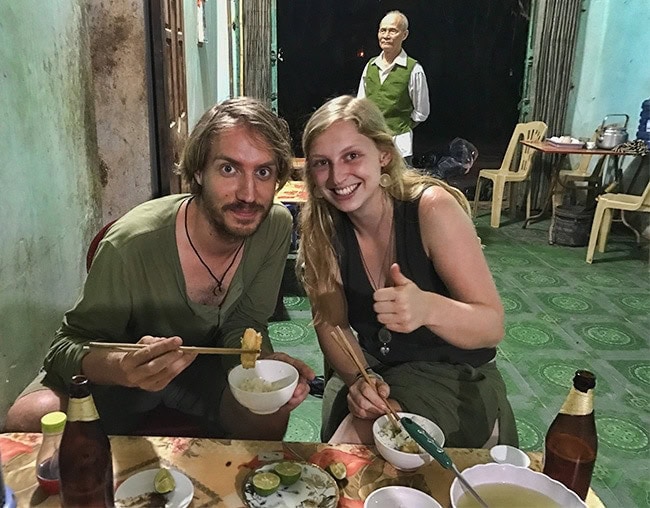 Dinner in Tỉnh Thanh Hóa. Gitte is Vegetarian too so we drove around town to look for a place to eat. I have "Vegetarian Food. No meat no fish" on a note on my phone so we showed it at a few places till a grandmother nodded and we followed her into the restaurant. The husband went shopping for some greens and I checked the kitchen for more food. The beer was cold and we had a nice table full of food.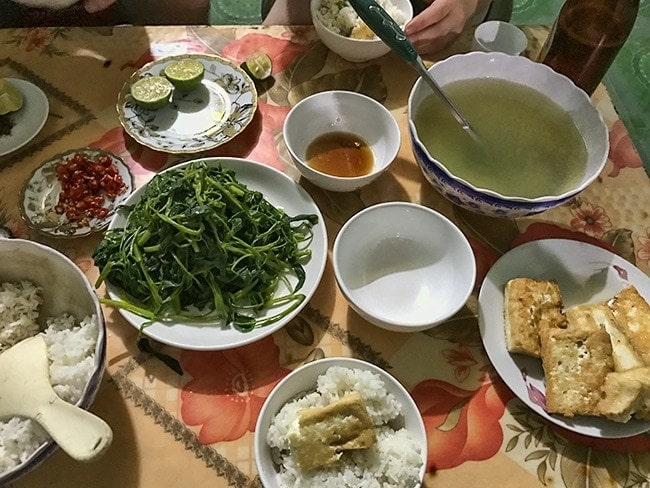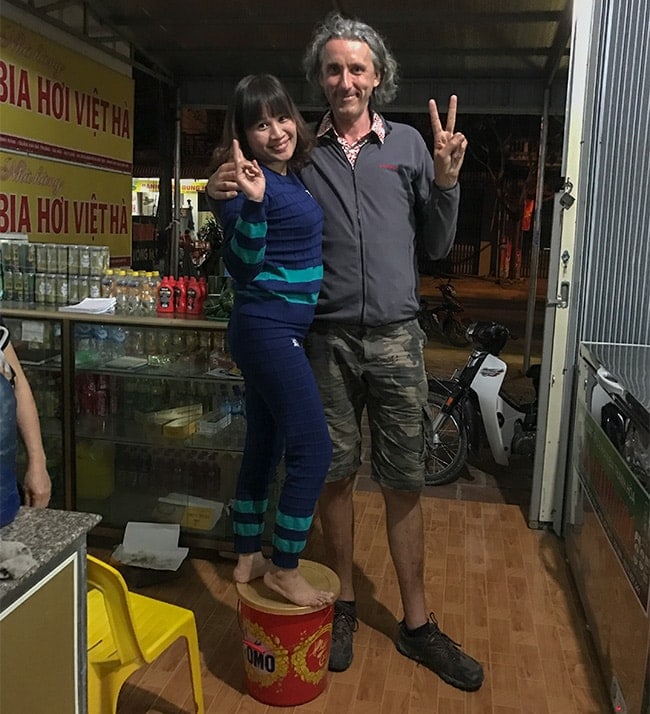 We drove a few kilometers back out-of-town to a Nhà Nghỉ we spotted on the way in. The place was brand new and the rooms OK. Had to do a beer run since they did not sell beer. This lady wanted a picture with me so I put her on the laundry detergent bucket. Big fun for the rest of the restaurant.

The Guesthouse: Đức Tại in Tỉnh Thanh Hóa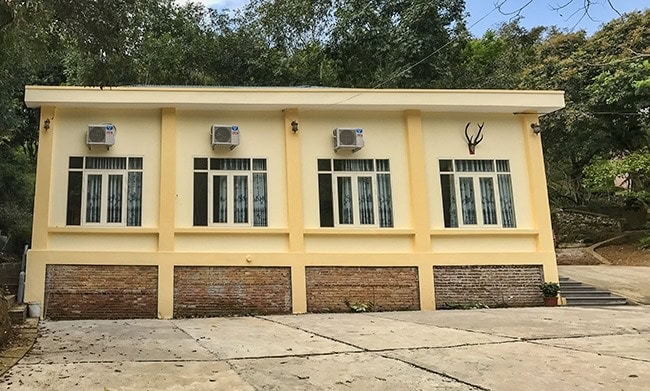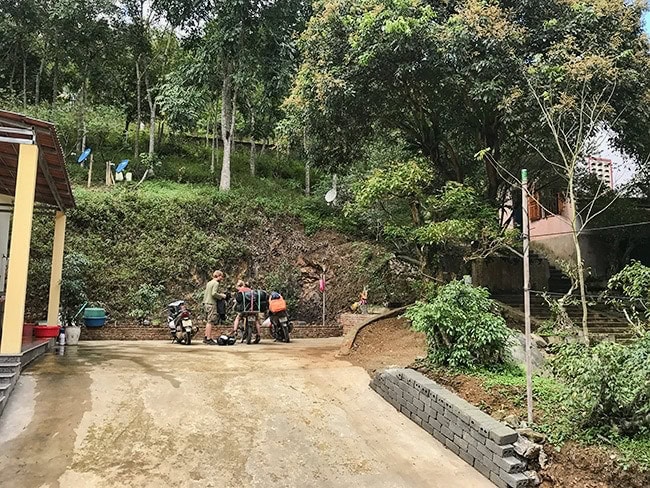 Pom Coong
More information on Pom Coong and Guesthouse No 24 in this blog post from last year.
Walking the fields behind the town we saw a few new resort style places and lots of new souvenir stands. If No. 24 would not be there – I would not stop! But since it is very convenient on the way you will find me next year again there for a few days.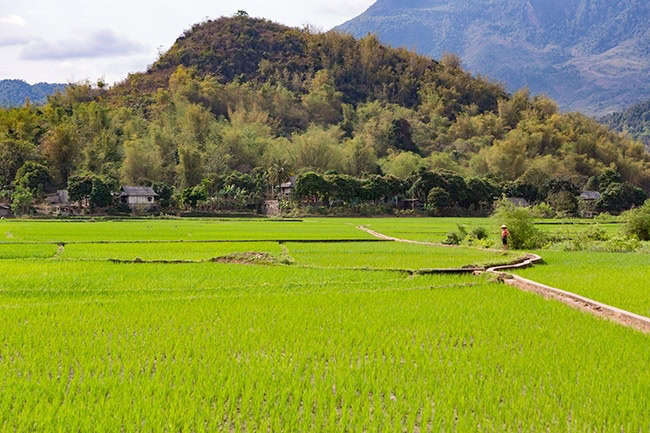 The rice fields of Pom Coong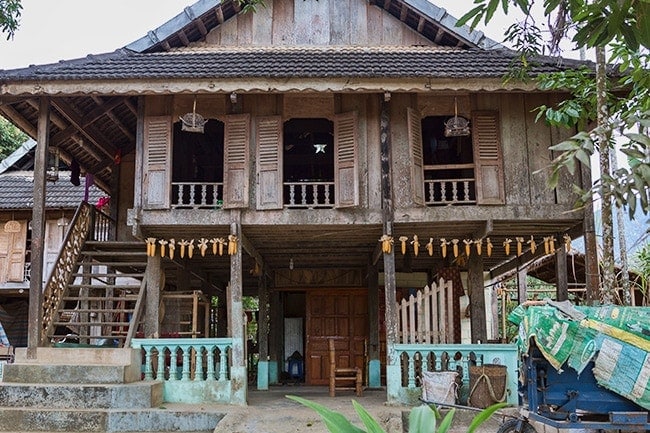 Traditional House in Pom Coong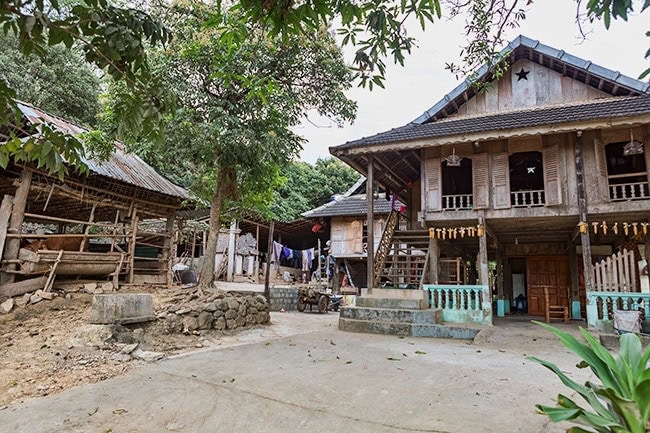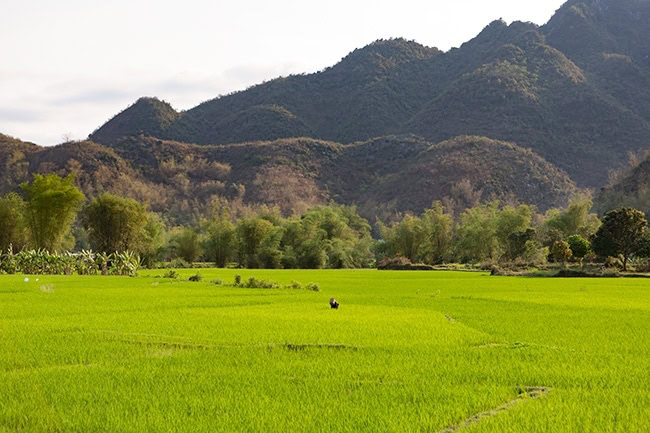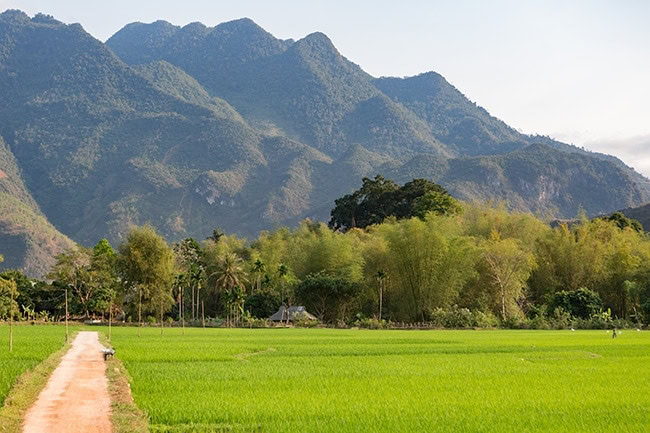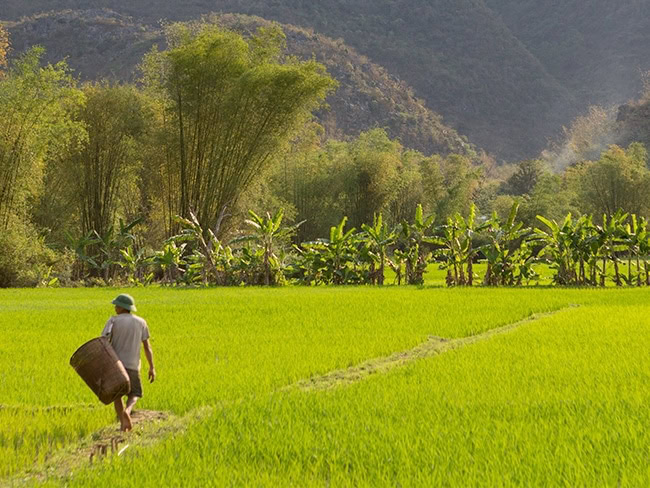 Gitte and Gieter posing for the final photo before they move on towards Ninh Binh – see you again guys!
Traditional Dance
One evening a group of British bikers stopped for dinner at Guesthouse No 24. The guesthouse organized a Dancing Show for them in the cord yard. Took a few snaps from the balcony. I have better pictures and a video at the post from last year.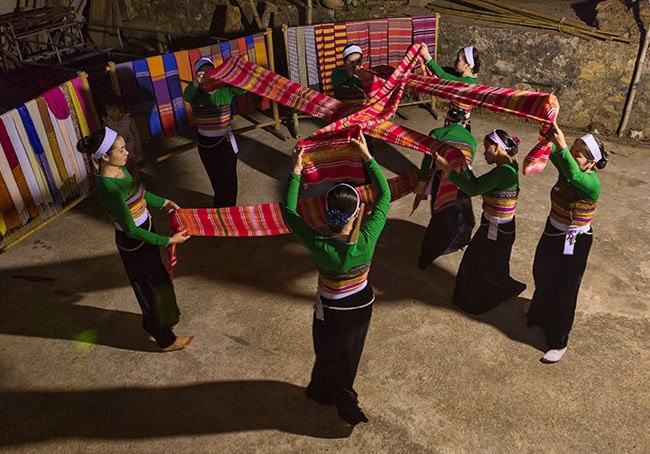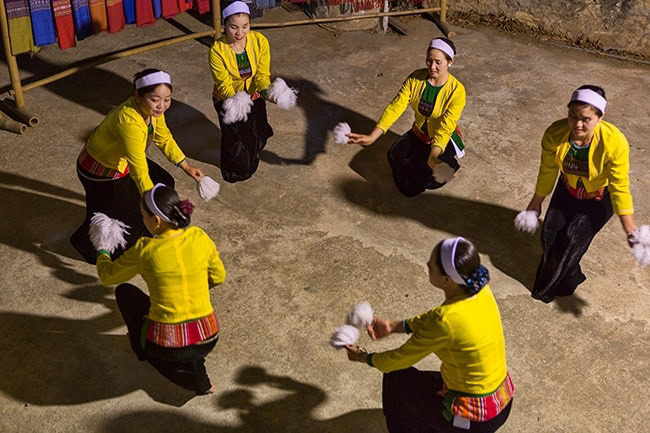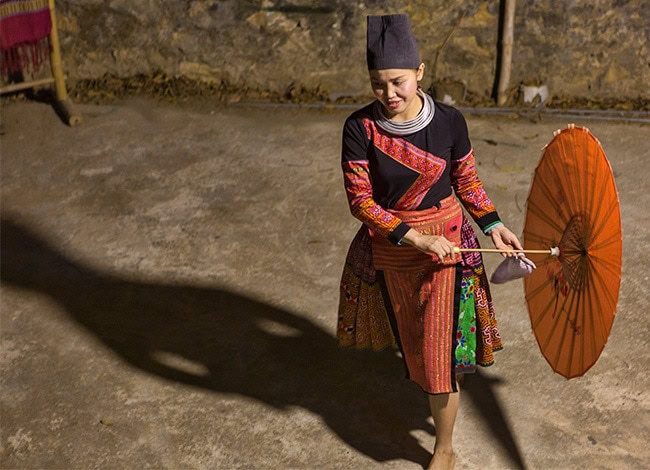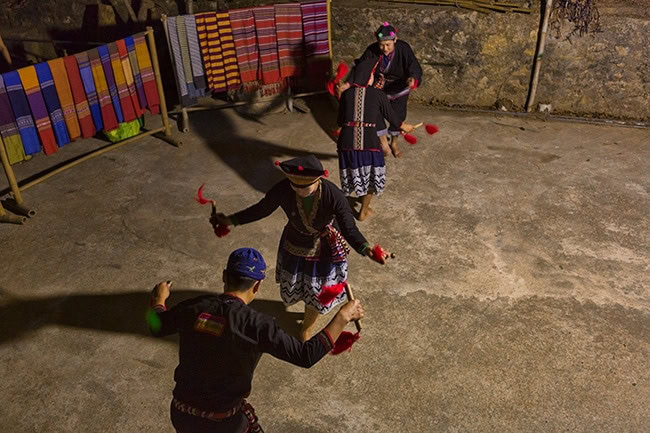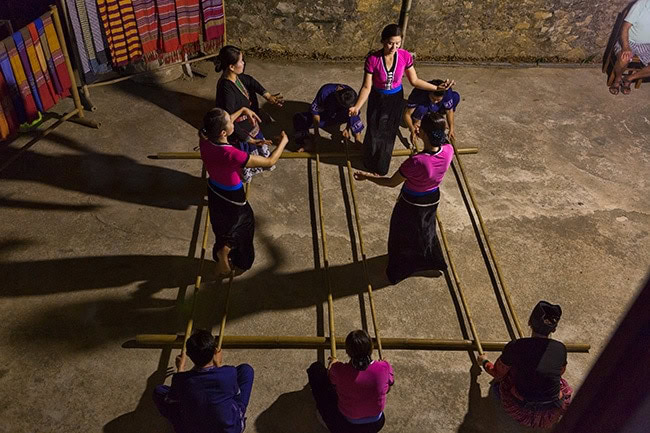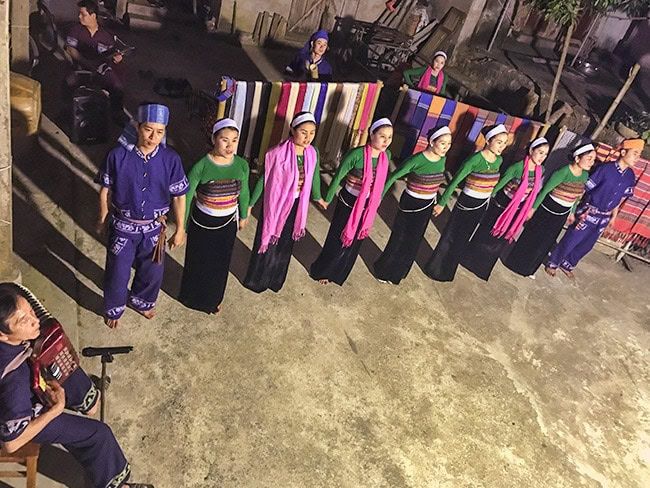 Support my blog -> Book your room here: