From Nakhon Sawan to Chiang Mai
The next morning we had breakfast at the hotel

Meet the queen of Norway
Than we did walk a bit in the park in Nakhon Sawan and had lunch at a small place.

Coconut shell as bird house – good idea!
In the evening we had Eli's birthday dinner in the hotel.
Poor band – they did play the whole evening and we where the only guys in the place.
After dinner we got a bottle of 100 Piper and some ice – off to the room we went.
Next morning after breakfast Eli & Ivan walked me to the bus station and waved me off.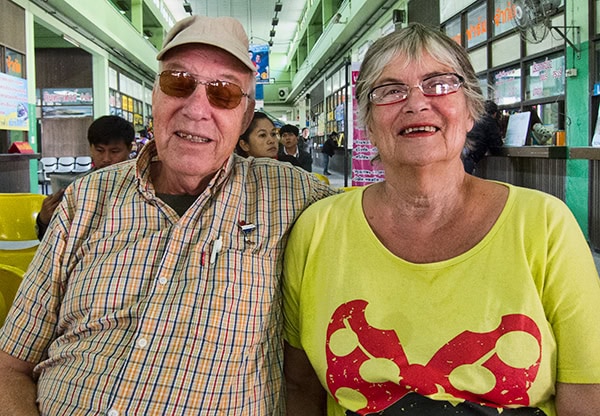 Chiang Mai
Had a 1st class bus to Chiang Mai and it was half empty – good for me as i had 2 seats. Not sure what is better – the night bus or the day bus. I think now the day bus as you see a bit more and only one day is fucked up. When you take the night bus and can not sleep than the night and the next day are fucked up.
Mr. 譚翼翔 and his friend Mr. Faruk did pick me up from the Suan Prung Gate in Chiang Mai and walked me to Jiang's house. There where a lot of friend sitting in the living room and i went for dinner with a few of them.

Funny seating arrangement but it does work
On the way back to the house i got a few bottles of LEO and talked to the guys a bit. An no way – what a small world!
The guy was the night time manager and the girl the day time manager of the Crazy Monkey in Dhali. I was drinking in that place when i visited Monika and Alex a few years ago. And sure enough they where friends as well. How many times did that happen to me now – I still love it :-)
My wonderful room – thank you a lot Jiang!!