Winter 17/18 – Quite Days at the Beach in Đồng Hới
After Tet was over and Vietnam was "open for business" again it was time to pack the bag and move on towards Dong Hoi! My trusted bike was parked for the year in Ninh Binh and Viet was so kind as to move her from time to time.
Put the big orange bag on my Yamaha Exciter 135 and rode to the next gas station. Fill her up and down South it was towards the blue sky and more sunshine.

There is not really a nice road and I only wanted to get to Dong Hoi fast. Last time I drove the 410 km in one day but that is kind of a lot in Vietnam. Especially on the A1 with all the trucks and fast buses.
This time I only went half way down to Vinh and stayed there for one night.

The bag looks big but inside is my brown bag. The same small bag I use all the time. The orange bag served me quite well last year. Keeps the rain and dust away from the actual bag and you see the big orange square much better. A kind of safety feature if you will.

A night in Vinh

Since I took the scenic route another time (on the way up North) and wanted to go down South fast it was the QL 1A again. It is terrible to drive and I only recommend it if you really have to go fast. Other than that – stick to the smaller roads and enjoy the ride!
From my friends place in Ninh Binh to the hotel in Vinh it was 213 km. Took me 4 hours and 52 minutes with food and gasoline stops
Took a room at the Thanh Dat 2 Hotel for 7 US$. You get A nice clean room, 2 chairs and a table, Aircondition and a TV as well as a private bathroom with hot shower and toilet. The hotel has his own parking and a coffee as well. Great for a night or a few nights. If you are lazy they also have an elevator!

At the Beach in Dong Hoi
The next morning I continued down south. If you go easy it is almost a day with breaks and lunch. It took me a bit over 4 hours for the 208 km from the hotel to the next hotel. Arrived in the late afternoon at Ocean View Homestay.  My favorite place along the coast of Vietnam. It is so quiet over there so I can sleep without earplugs. They have a small garden to hang out and you only cross the road and walk in less than 5 minutes from your room to the beach.

Most of the day I spend at the terrace and worked on the computer. The staff was so kind and made some nice food every day.
Happy Hour at Beachside Backpackers
Not too far down the beach is the Beachside Backpackers. They had Happy Hour from 17:00 – 19:00 and this is where I went every day. The dog was happy to tag along but usually 30 minutes or so after we arrived it was too boring for him to wait for me and he went home again.
Quite Days – Happy Evenings in Dong Hoi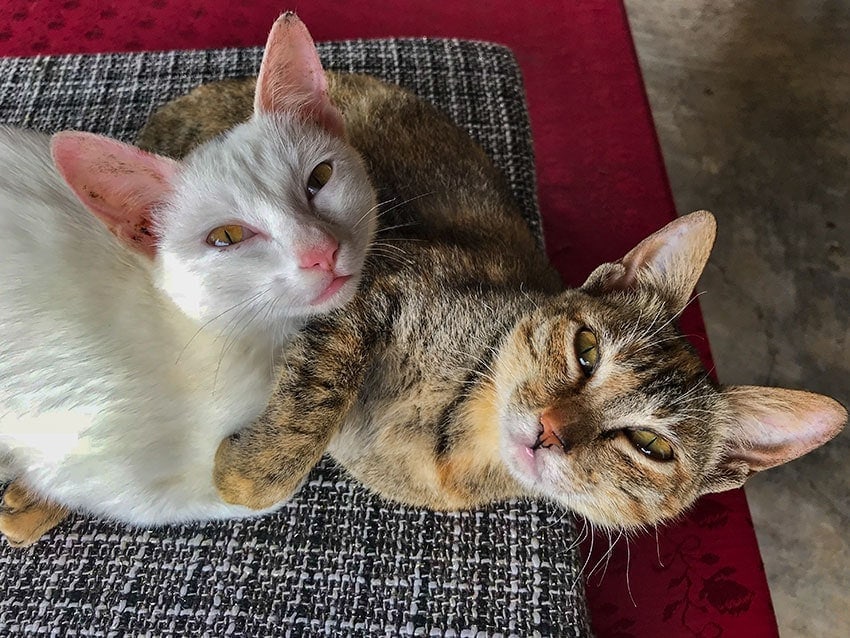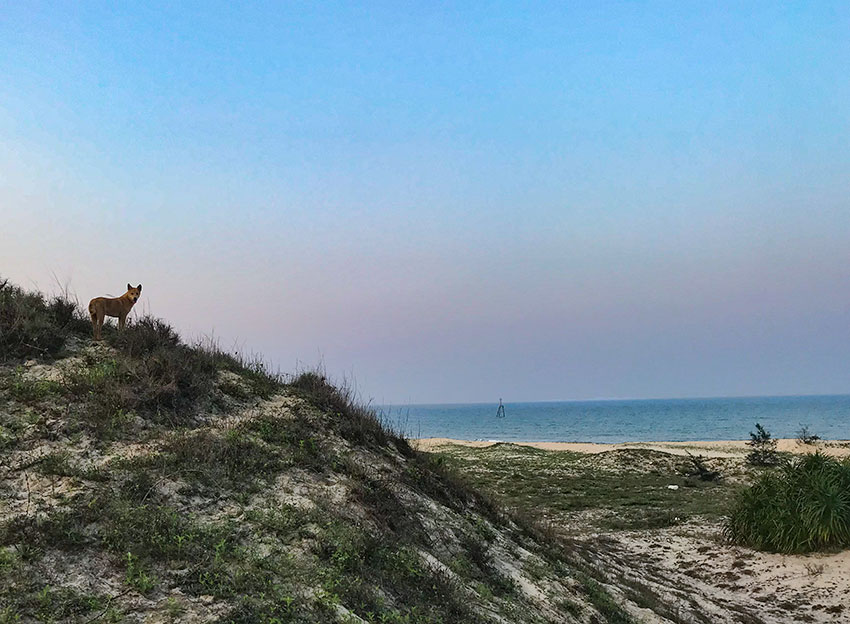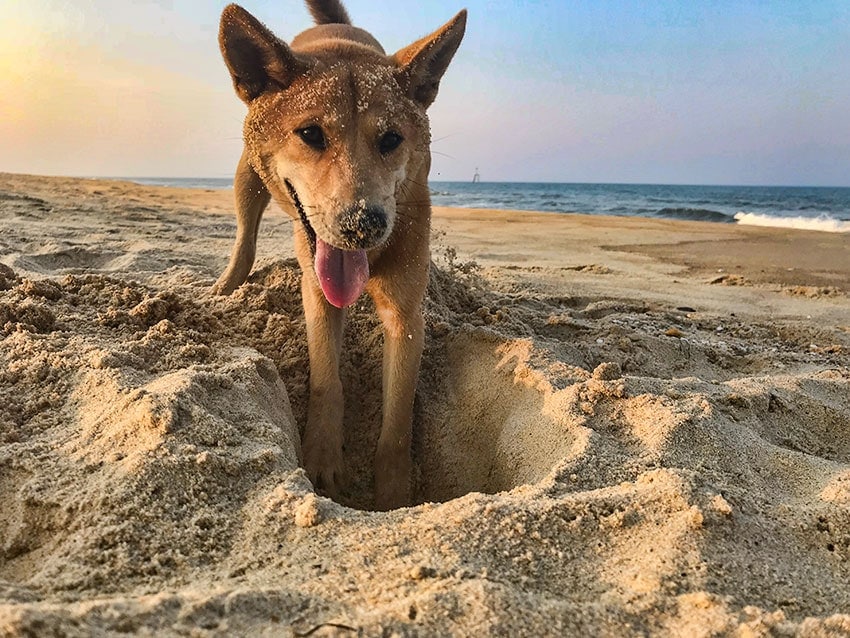 Time to move on – further down South to meet other friends. Thank you Trang for making this another special time at your place at the beach!!