The "Unified Memorial of Hope" and Hiền Lương Bridge
Hiền Lương Bridge
Hiền Lương Bridge is a bridge over the Bến Hải River. The bridge is located at the 17th Parallel that divided Vietnam in two parts by the Geneva Accords of 1954. It formed part of the border between South Vietnam and North Vietnam from 1954 till the reunification. After the partition, the northern part of the bridge was painted red and the southern part yellow. Now the northern part is blue – guess they where out of red paint when they renovated the bridge. Today it is a major national monument with a museum and two memorials – one on each side of the river.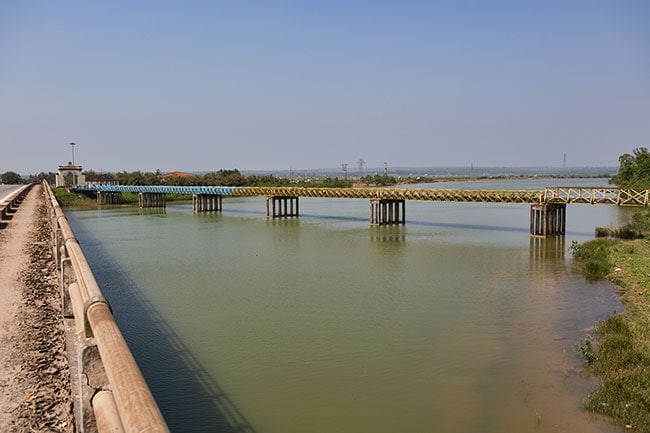 The old bridge itself is a simple steel construction built by the French in 1950. On the southern side is the Reunification Memorial which for a change is quite modern compared to some of the other memorials I saw on my Vietnam trips.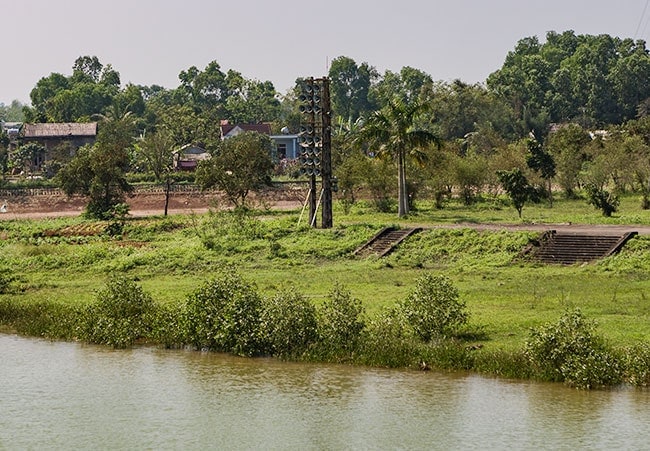 Guess they used the speakers to blast propaganda over the water. They do that still at the DMZ in Korea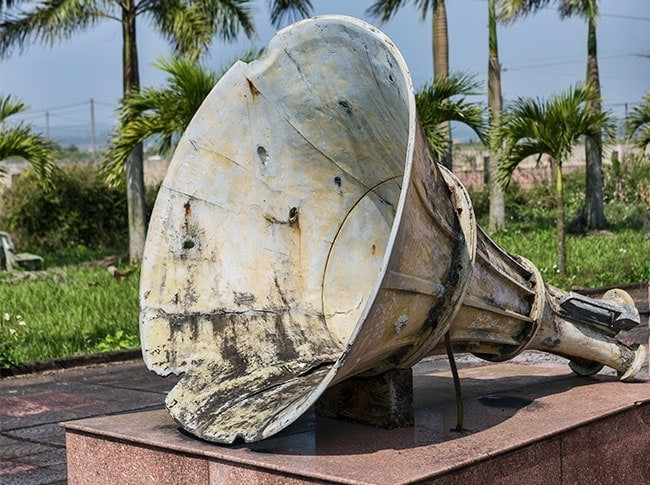 Does not look like this one delivers HIFI sound but judging by the size it is probably quite loud

Monument at the North side of the bride. You see the bigger Reunification Memorial on the other side.
The Đài Tưởng niệm Khát Vọng Thống Nhất Memorial Park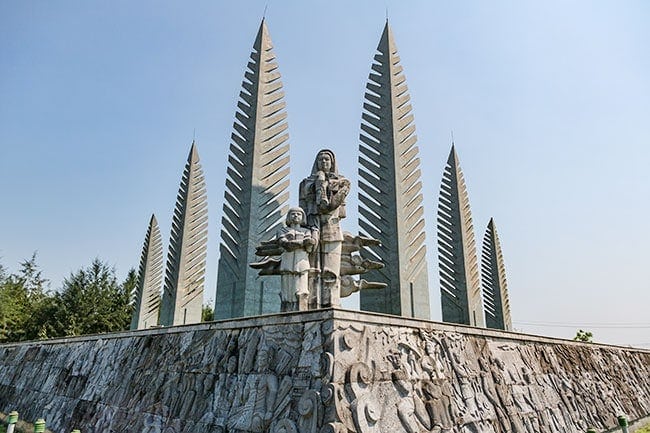 The centre piece with a woman and her daughter – in the back 6 feathers.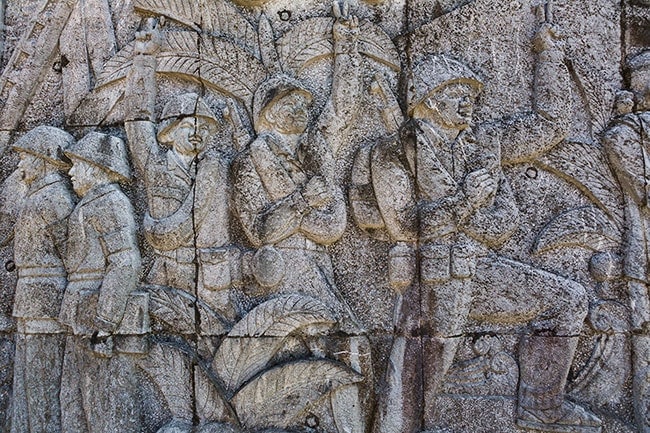 The NVA is on the way down south on the Ho Chi Minh path along the border of Laos and inside Laos.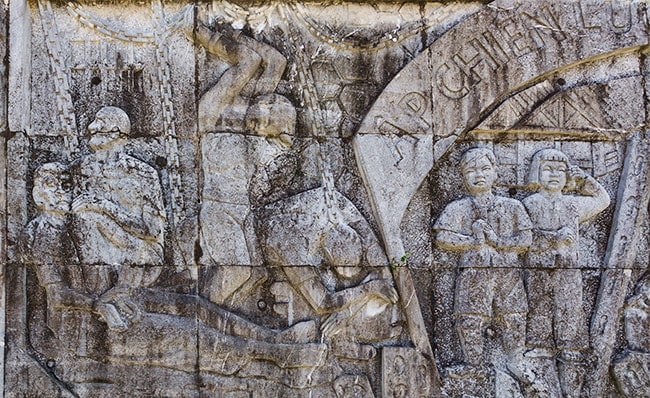 Captured Vietnamese in prisons – the farmers pray for them.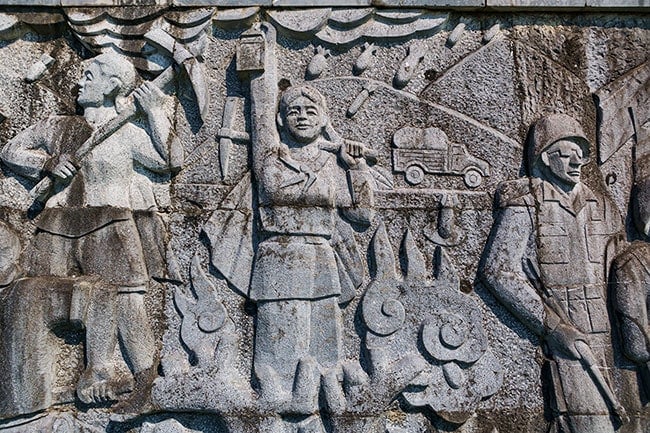 But the North is not only fighting on the battlefield – they also mining – man and woman together. While the US bombs their trucks. On the right you can see US soldiers – easy to spot with their fancy sunglasses!

Fresh from the battle ship they march along. A spook on the right watches what is going on.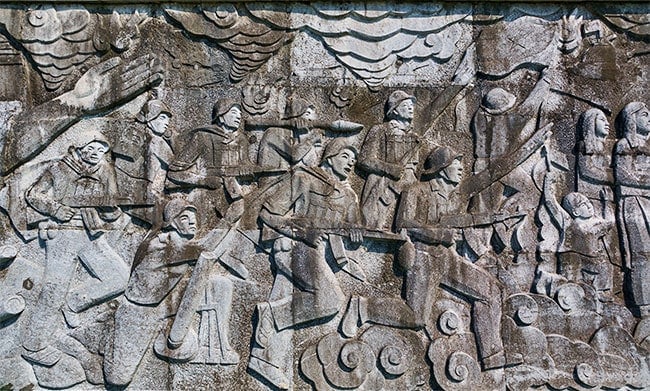 NVA troops battle their way towards the South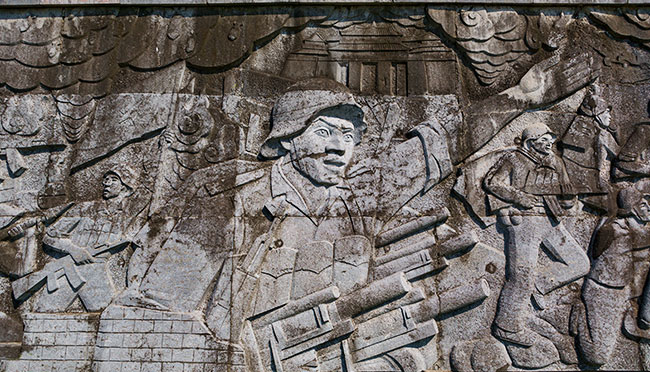 This way! This way!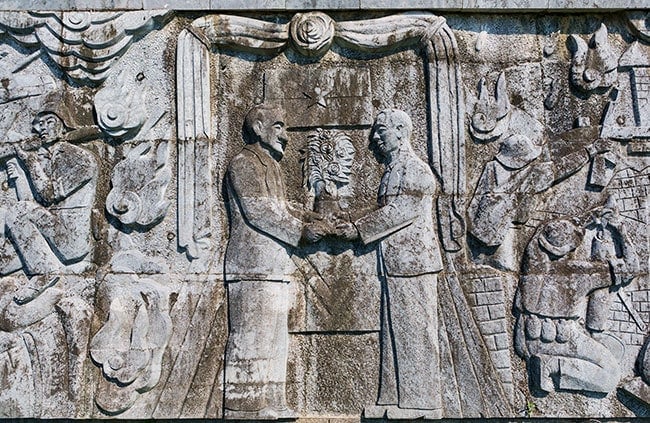 And in the middle of the war Uncle Ho gives some flowers to a guy. On the right the fighting continues!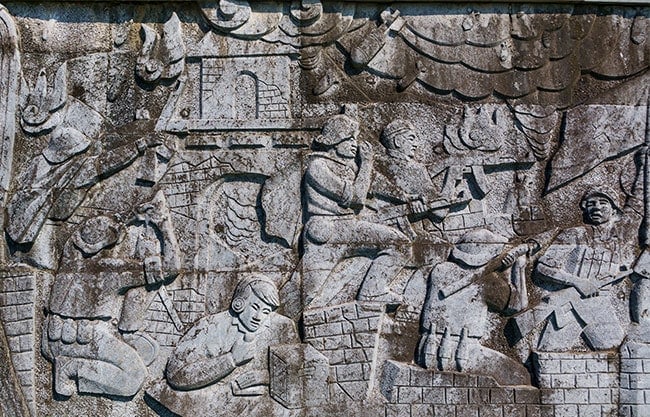 The battle is in its last days. Mortars, RPG's and light weapons are in use, fire everywhere and big bombs drop. The man on the radio calls for instructions.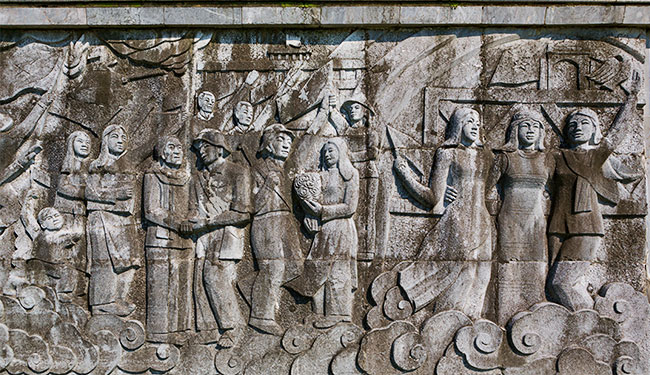 Finally the war is over! Hill tribe girls, farmer and city girls unite and dance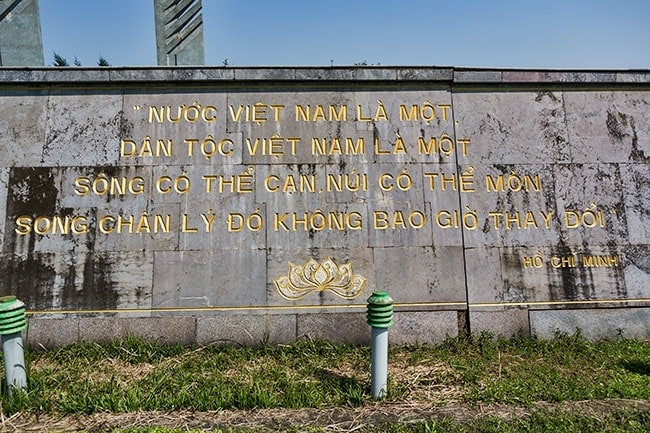 Vietnam is one
Vietnamese people are one
But what we need. Mountains can wear out.
But that truth never changes
That is what Google Translate gives me – hmmm
Next year I will be back – getting a picture of the flag pole and visit the museum – pictures will follow!
The DZM Memorial Site

Do you want to stay up to date and not miss a post? Subscribe to the blog on the top right or all the way down on this page!
Support my blog -> Book your room here: