Review of Bangkok Bus Lines – Chiang Mai to Bangkok
This Bangkok Bus Lines review is from my trip with a Bangkok Bus Lines VIP bus from Chiang Mai Arcade Bus Station to Bangkok Northern Bus Station. One of the best night bus trips ever!
Bangkok Bus Lines Review from Chiang Mai to Bangkok Mo Chit 2 or Bangkok Northeastern Bus Terminal
I booked this trip online for 759 Bath. The ticket includes a voucher for food at the stop, about half the trip.
You find a few pictures of the food below. The bus leaves Chiang Mai at 20:30 and was in Bangkok at 6 in the morning.
Most passengers got off at the Bangkok Bus Lines office, but the bus continues to Mo Chit since that is what you paid for! They might tell you that it does not, so you have to insist on it. They will drop you there.
How to get a Ticket for Bangkok Bus Lines
Bangkok Bus Lines have a counter at the bus station in Chiang Mai if you want to get your ticket there. You can come to the station a few hours before to get it. This usually works off-season, but if you want to travel in high season or before public holidays, you better get a ticket in advance.
I typically book with 12go.asia: From Chiang Mai Bus Terminal to Bangkok Mo Chit Bus Terminal. Make sure to check BusOnline Tickets as well. They might have a Bangkok Bus ticket even when 12go is out of tickets!
(Affiliate links that do not cost you more but might get me a beer eventually!)
The same goes for the bus from Bangkok to Chiang Mai. You can get a ticket at Mo Chit Bus Terminal. Sometimes it is also called Northern Bus station or Chatuchak Bus station or Terminal. Quite confusing but all the same.
The Bangkok Bus Lines Bus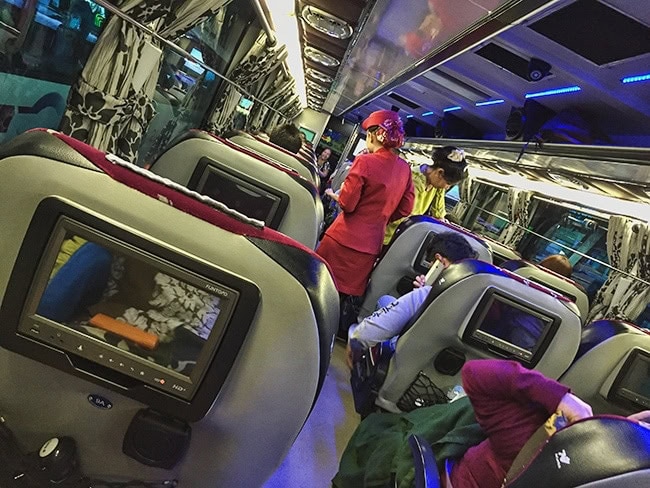 This is a 32-seat bus with a 1 – 2 configuration. 1 seat on one side of the bus and a double seat on the other. Since there are only 3 seats in a row, you have more space. The seats are wider and there are fewer seats on the bus. If you want to sit together with your friend or sit alone, you better book online a few days before. This way you can choose your seat.
The toilet is at the back of the bus. So you want to sit in the front or middle of the bus. The toilet door makes some noise. And it might smell from time to time. But this is the same as in all the buses that come with a toilet in Asia.
The seats do recline quite a bit and have a nice footrest. The footrest is only practical when you are not too tall. If you are over 190 cm, you might look for a 24-seat VIP bus to use the footrest. I am 203 cm and had no problem with this bus apart from the footrest that I can not use.
You get a blanket and a travel pillow that goes around your neck. Never had one of those on a bus. They are better than a pillow alone, but I am not sure if they wash them all the time, so I did not use them. But you could use your T-Shirt or towel if you want to use them.
Entertainment System
Great entertainment system. You can even charge your USB device. Lots of movies to choose from. Even a few in English. The headphone is from the bus as well, but you can use your personal one if you like.
Free Snacks
The stewardess – she hands out the snacks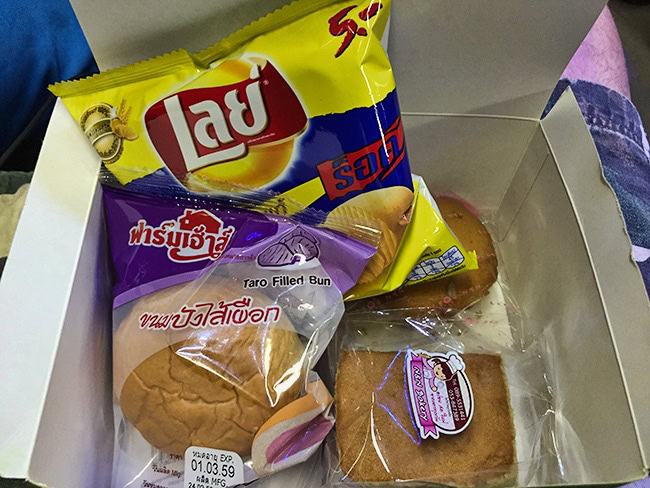 You get a small bottle of water and this box – I only eat the chips. The rest I gave to a homeless guy that slept close to my hotel on the streets in Bangkok after we arrived. He looked happy.
Then you get tea and soy milk and another strange Euro Cake thing that went to the guy on the streets of Bangkok as well
Free Midnight Dinner
No Bangkok Bus Lines review is complete without the food at the stop in the middle of the trip.
Every night bus you will take in Thailand will stop at some time. So the drivers can eat and you can too. Usually, your ticket has a section you can tear from it. This is the voucher for the food.
Since that is a VIP bus, you can eat in the VIP dining area of the food stop midway to Bangkok or Chiang Mai if you go in the other direction. That means more options and a buffet – you can eat as much as you like. Typically, the vast majority of the buses stop at a rest stop, where you have a minimal option of meals. In any case, keep your ticket – it has the voucher for the food on it.
There was even some for me – vegetarian food that is!
This was my Bangkok Bus Lines review from Chiang Mai to Bangkok. Have you traveled on a Bangkok Bus Lines bus? Let me know about your experience in the comments!
Want to buy a Ticket Online?
Here are the buses 12go sells online. Make sure to check BusOnline Tickets as well. They might have a Bangkok Bus ticket even when 12go is out of tickets! Be aware that there are other bus companies as well that do not sell online tickets. If you need to go to Bangkok from Chiang Mai or Chiang Mai from Bangkok, you will find a bus easily if it is not high season. It might not be a VIP bus, but you should get to Bangkok or Chiang Mai.
Get your Bangkok Bus Lines Ticket here:
From Bangkok to Chiang Mai
or
From Chiang Mai to Bangkok
Look for the VIP 24 Bus!
Bus Chiang Mai - Bangkok

$ 14.78–27.32

9h 50m – 13h 20m

→

VIP 31

07:30, 18:30, 19:45, 21:00

→

Express

10:00, 20:00, 20:30

→

VIP 27

10:00, 20:30, 21:50

→

VIP 20

21:30

→

VIP

19:15, 19:30, 20:00

→

VIP 24

20:00

→

Express 30-32

16:30

←

Express

06:00, 06:30, 08:30, 09:30, 16:00, 16:50, 17:00, 18:30, 18:50, 19:00, 20:00, 20:30, 20:35, 21:00, 21:40, 22:20, 22:40

←

Regular 55

05:40, 05:45, 07:25, 07:30, 10:30, 10:35, 19:50

←

VIP 31

09:00, 19:00, 19:25, 20:00, 21:00, 21:10, 21:15

←

VIP 27

10:15

←

VIP 20

21:19

←

VIP

08:30, 15:00, 16:00, 20:02, 20:15, 20:40

←

VIP 24

20:00, 20:20, 20:30

←

Express 30-32

16:55
Support my blog! Book your room here: