A Day on the Inlay Lake – Pix Part 3
There are loads of "tourist" workshops on the lake – selling products that where made in the shop and elsewhere on the lake. at last most of them?? When you go with the boat you hear the weaving machines all over in the villages so i guess that a lot of the stuff they sell is really from here.
this one is a newer and big place. They make cotton, silk and lotus flower fabrics. You can than buy scarfs, trousers, blankets, shirts and what not.
This is the stem of the lotus leave. inside are a few very very fine threads – if you would not know better you would think it is a spiders work. Of course you need loads to have a thread ready to weave…
Here you can combine different colors or materials into one thread – if you like fabric that has a different shine than a single color one would have.
Grandma gets the material ready to use it in the machine.
This is where grandma's work ends up – in the hand of the weaving machine operator (sounds good??)
With the pedals you can make pattern – the more pedals are installed the more complex the pattern can be.
Of course – i was waiting for that. The Long Neck do actually come from 200 km away. But now – took them quite a while – a few of the shops have "Long Neck products" along with original long necks. Guess still better than in Thailand where they have Long Neck zoos even in the south now…
Gabi – this one is for you. The Jumping Cat Monastery – where they have them jump every time there are enough visitors there. The last few years it where the monks that did the show. guess they are to lazy now – the boss monk rings a bell and than the boy does the show. now i do not see the big difference with a dog show here – and all the cat people tell me the cat has a mind of its own and all the bla bla :-)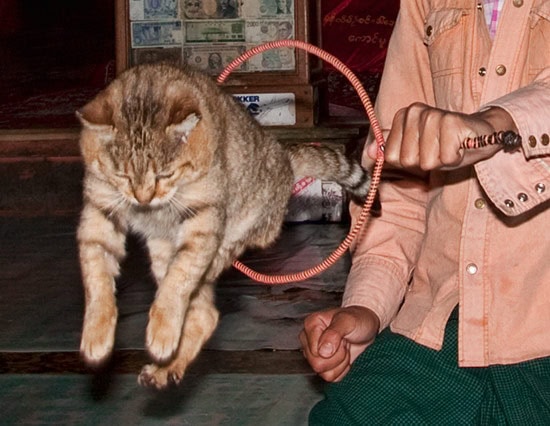 Enough for one day – lets get back home
Truck Engine Wash Center