Back in the Philippines again
After too many years i was back in the Philippines again. I am not really sure why i did not visit for that long. Guess it is the extra flight that you have to take but that was the case with Myanmar as well and i went there many times?
Off to Manila
As usually i had a way to early flight out of Bangkok. The mini van was on time but then the i drive in circles, get stuck for no reason behind the trash truck, go back to do another circle and still so not pick up that last passenger game started. Still i made it on time to the airport – cause i pack an extra hours on the commute to the airport and can sit and relax when i am in the van. Sure enough there are the other guys that believe what the travel agent told them when they got the ticket. "It will only take one hour at that time" they say – which is right. The drive to the airport takes one hour – but if you are the 1st passenger they pick up you can end up to circle for another hour before!

Clouds clouds – one never gets tired of looking at them – as long as there is no in-flight entertainment

A few of the 7,107 Philippines islands

Getting closer to the airport
Back in Manila
Out of the plane and down to immigration. Too long lines but smooth clearance same with the bag and another chaos line at customs. Not really sure who comes up with such architecture. Imagine long lines with people and their bags, most of them on carts – bumper to bumper towards the door and the agents in front. This lines block everything as the other people have to cross them to get to their luggage carousel – guess this building is so old and planes had only 24 or so passengers.
Now how to save an arm and a leg on the way downtown? Go out of the building and upstairs (yes you have to walk the stairs as elevators are something that looks good but does not really work most of the time when in a public building such as airports or public transport). Upstairs you will find the taxi drop area and this is where you get your cab. Ask the driver if he puts the meter on before you get into his WHITE(!!) taxi. And if he does – let's go!

She was so kind to ask Alex if i could surf his place. And look – a brand new department with a big bed. Alex did not move in at the time – he still was waiting for clearance to get his dog into the building. What more can you ask for? Thanks Alex!!

The other night She took me to Nathan. They are friends for a long time and he and another friend had a little Accoustic Bar private party. We would say Karaoke – same same but different!
We had lots of beers and fun!

People here are small!

The next day i had to meet Hélène again. Last time we did meet in Laos and the year before in Malaysia. Thanks for the coffee and SIM card again!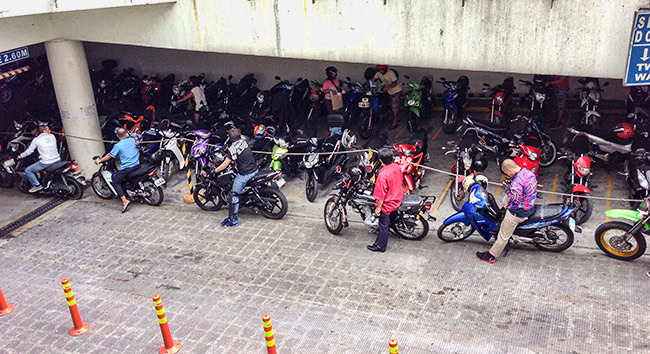 Its more fun in the Philippines – even to park your bike!