Winter 17/18 – From Rayong over Bangkok to Pai
Ban Hua Khod Mangrove Forest in Rayong
Dee's brother was in town with his girlfriend and we went all together to the Ban Hua Khod Mangrove Forest near Prasae. When we arrived there was almost nobody there. We took a boat out to the open water and back into a pier that leads to elevated walks in the mangrove forest.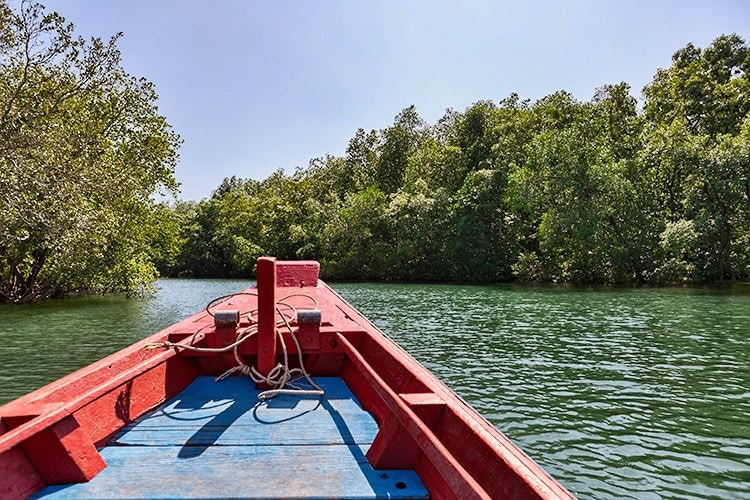 From the Golden Meadow (Tung Prong Thong) we took a boat out of the mangrove forest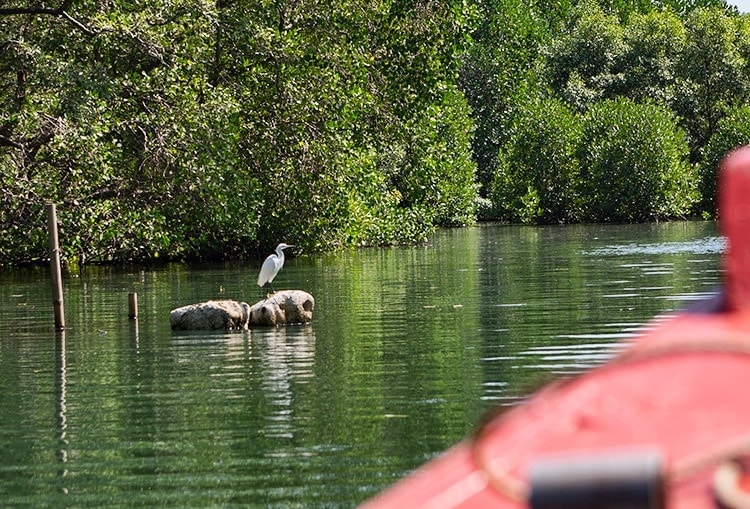 Saw some birds on the way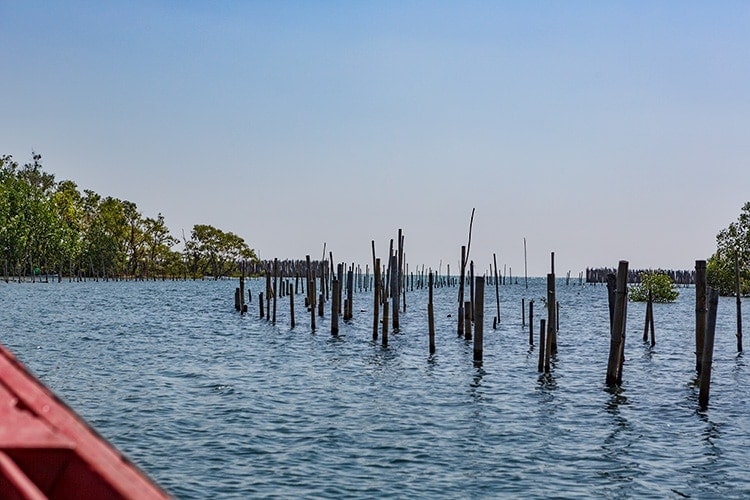 The ocean is coming into view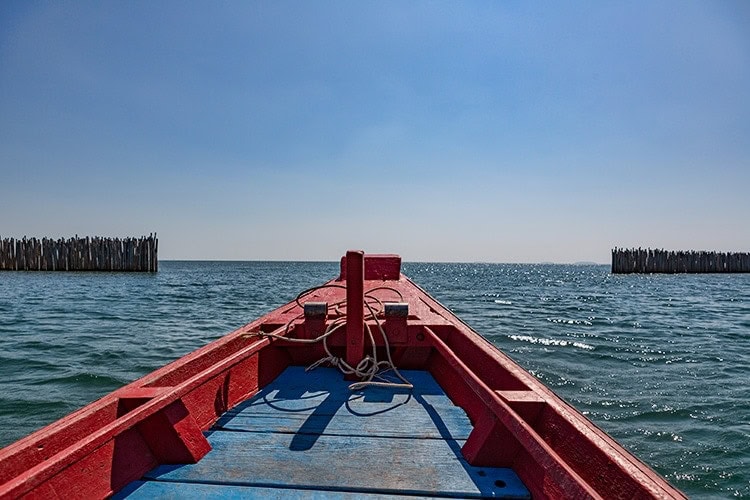 Open water ahead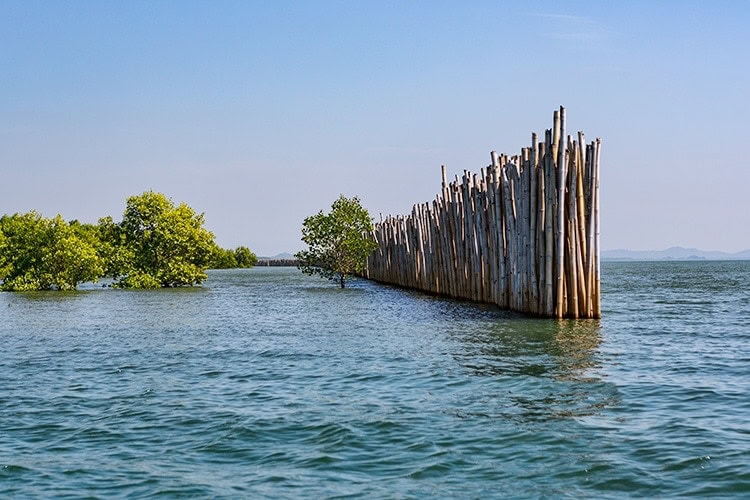 To protect the marsh from the open sea they build a wall

Once outside we turned back

And they let you out at a pier. From where you can walk to Prasae the Estuary Viewpoint (จุดชมวิว ปากน้ำประแสร์) and back to your car again.
Rayong
We stayed in a small place downtown close to the market. Went with Gerben and the Monkey to a big playground and after the little one was tired we circled back to the hotel again.

Walk in Rayon

Found a little place with food and beers

And full of collectibles it was

And the former king of course

Dee took us to a meeting with her former class mates. I catched the biggest cold in centuries there

Finally a place that understands customer needs. We had dinner at the night market.
Bangkok
Spend most of my time in Bangkok in bed fighting my cold. A few shitty days and worst of all X-Mas approaching and all the busses out of Bangkok are full. Everybody leaves the city for a few days.

They been here for 30 years or what? And now they had to go. A government crackdown on the small people. My favorite Fruit Shake place – Gone. My favorite daytime snack/lunch place – gone. Great Job!

They killed the old wood house as well. And instead of cleaning the place up they left all the rubbish there…

This is good news. Now one can see where the bus goes. For the 1st time :-) Well I use here since years and it tells me which bus goes where and where to change etc. A great app if you travel and it does work offline as well!

Merry X-Mas! Due to my cold, I almost went back from the bus stop. to bed. But the bus came round the corner when I started to walk back to the hotel. So I want and we had a bit of an X-Mas party and Hello Hello at Scotts place.

My favourite hideaway bar – gone. Replaced by the stupid shutter shops. There was a little mom and pop shop and behind a hidden bar / restaurant. Great place in the center of it all but nobody knew about it. So usually only a few locals at the place. Well, that was it…

At last these guys are still here. For more than 40 years and still the best Tom Yum Goong in Bangkok. Since I do not eat animals for quite a while now it is not really useful for me but if you are in town. Go and try!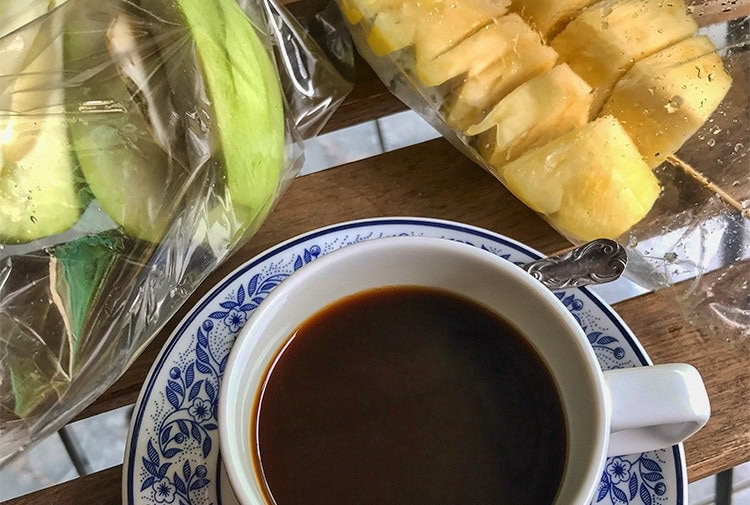 Breakfast for Champions

Since the portion is small and cheap…

… I might as well have two of them
Off to the North
If you ever been to Bangkok a few days before X-Mas you know how fast the city gets empty as soon as X-Mas is here. Everybody gets out of town for a few days. By cold was better and I wanted to be in Pai for New Year's Eve.
My usual choice – Bangkok Bus Lines (Read my review here) was booked solid. Now what? Could not even choose anything – was happy I got a VIP bus in the end.
It was chaos at the bus station! So many people and all slots full with busses. A lot of busses had no slot so they loaded customers in between. After more than an hour, our bus finally arrived – one guy came to our ramp and hushed us out in the rain. The bus was waiting somewhere far from the ramps. And there where many busses. Big confusion who goes where since 5 or 6 busses were parked next to each other. In the end, I had my seat and was happy.
And what is it with that rain? In the good old times, there was no rain in the dry season! Global warming eh?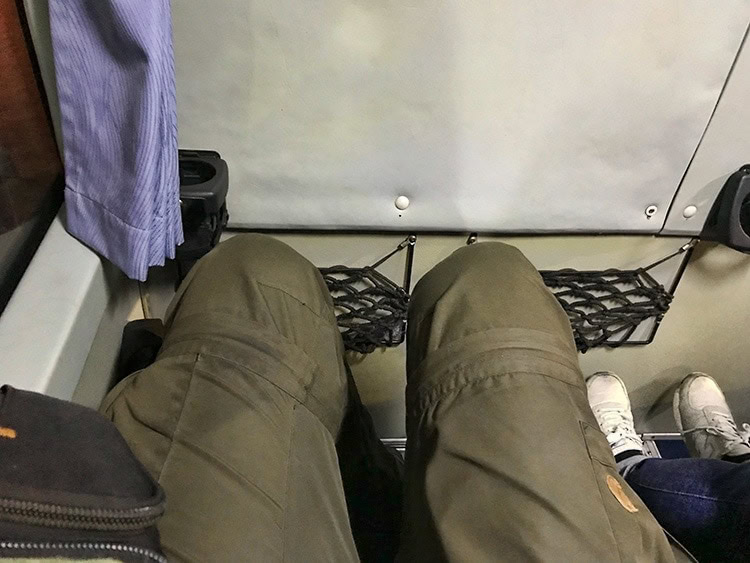 On the bus to Chang Mai – OK seat in the front.

Not my usual company but still OK. Note the rain – it is still raining.

My seat on the window
Chiang Mai
The bus arrives at the new terminal. It still rains so you get a bit wet on the way to the old terminal. Got my ticket to Pai and all the mini busses where full for the next 2 hours. Which leaves me some time to get breakfast at my usual place. The restaurant at the right corner when you walk from the old to the new bus station. It is there since forever and one day and I stop there every time I have to wait for a connection.

I see egg but no pork – where is it? Never mind – I take the same as usually.

If I have time before the minibus to Pai I go here for years. At the corner between the two bus stations. And have the same two dishes usually.
On the Way to Pai
After breakfast, I had a coffee from the coffee place next to the restaurant and wheeled my bag back to the minibus stop. Still raining – how wired!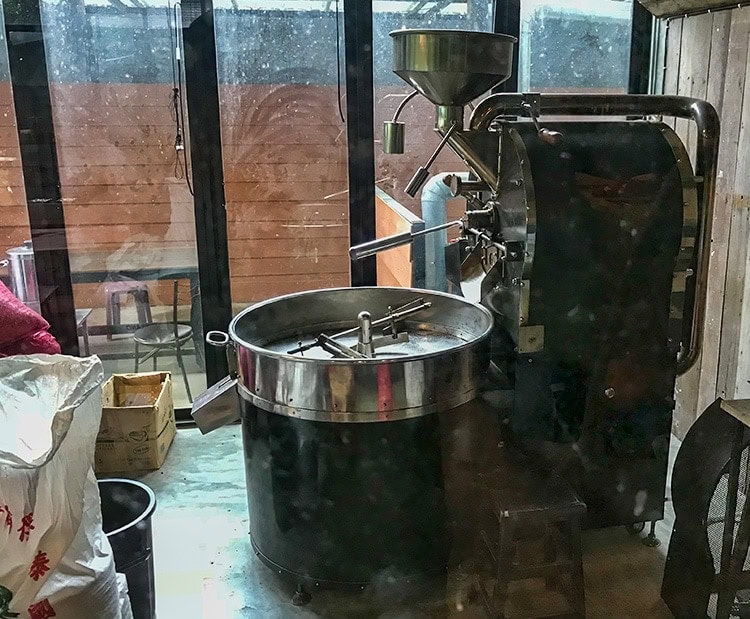 At the stop on the way to Pai. They do roast their own coffee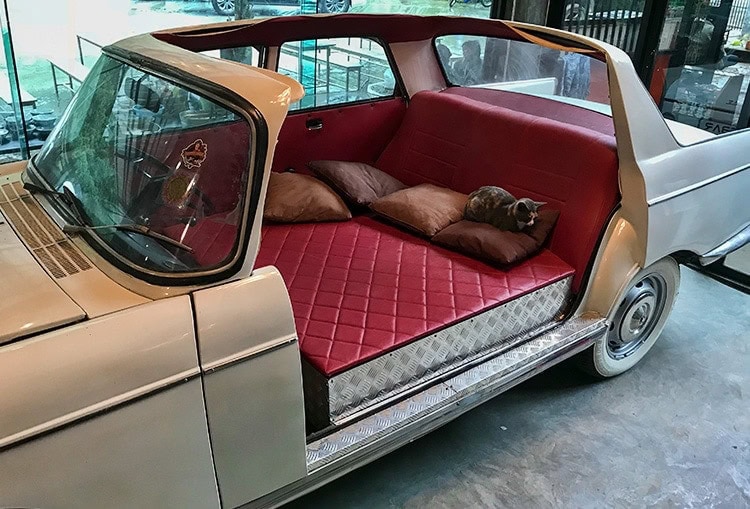 Cat-Car

Still raining – the mini bus to Pai
Do you want to stay up to date and not miss a post? Subscribe to the blog on the top right or all the way down on this page!