Bangkok – i am back again!
4 Months of Winter Vacation
A bit earlier than last year I am back in Bangkok. Did fly with Air China from Frankfurt to Beijing in their 777-300. A nice plane as it is not so loud than the old ones. There where no emergency exits to get at check-in. But on the plane there was one for me – still could not sleep. The old trick with a few beer, red wine and whiskey did not work as I got only 2 beers and a small glass of red wine and that was that??? Not sure if I fly with them again!
Stopover in Beijing
We had to circle a few times before we got down in Beijing. Then you have to get a stamp before you can continue the trip? Strange as we can not leave the airport without going through immigration and that is somewhere else. So standing in line for a while. Then the usual take out everything and put stuff in the x-ray and what not. Had to separate all the photo equipment and cables from the rest and they took there time. Well, why not. Finally, I was at the gate for another 45 minutes waiting. Free WiFi? Yes if you have a Chinese landline you get 12 hours free! Fuck now what to do – no WiFi for me :-(
Last Leg of the Trip
Then off to the next leg – had an emergency exit row seat so that was good. But could not sleep so the 5.5 hours where looooong. And the plane old and loud. At last, they had my vegetarian food – and no booze- grrrr.
6 hours later I was in the long line at Thai Immigration. Why oh why they build so many little counters and leave them empty so one has to stand in line for 40 minutes or more? Still better than the other day in Chicago – almost 2 hours!!
Sky train and a taxi ride later I was greeted by Chris at my guest house – WIN!
A few pictures for you

Chris from Switzerland. He is here to get new material for his leather biz: http://www.swiss-chris.com/. He left for a few days in the north before he goes back to Movelier on X-Mas.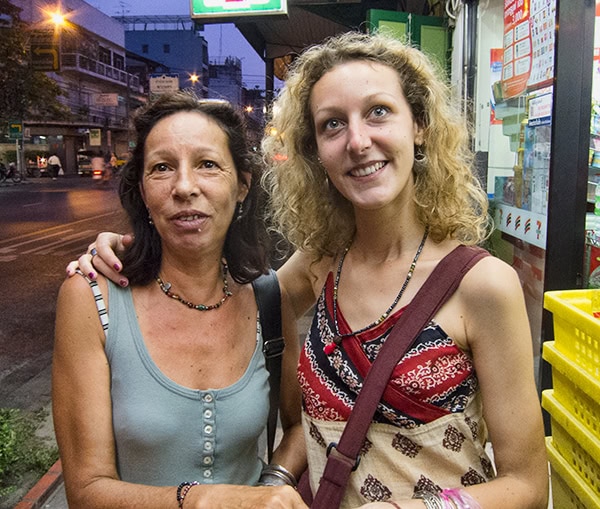 On the way to look for a sim card, I did meet Lucie and her mother from France. Last time I saw her in Pai – there was never a time when I did not run into friends here in Bangkok. They left for a family X-Mas gathering on some island in the south. Sweet!

In the evening I had dinner with Chris and Melanie from Paris. She did move with her boyfriend to Bangkok and is working here now. To bad as this was my Paris Connection. Guess I will not go to Paris next year. We had a nice evening at that small quite place where I like to go when I am tired and do not need to much noise and movement.

Later in the night, I was wandering towards the Gecko Bar to see what changed in Soi Rambuttri in the last few months since I was here the last time. Police control all over after the bridge in Phra Sumen Road and Samsen Road. I never did see a control there. Might be because of the demonstrations that are going on in the Democracy Monument area that is not far from here?

Next afternoon and evening I did spend with Eli and Ivan from Norway. We are not sure when we did meet – but I could be as long as 15 years ago at the border of Thailand and Malaysia. Since then we keep running into each other so many times in Asia as they like to spend the dark and cold Norwegian winter here in Asia. Sure – one time I made it to Norway.

Sure – you did not see this before but since a few years, they do like all that stupid X-Mas decoration. Wait till they have snow over here – haha.

View up the Chao Phraya River from the new "Asiatique The riverfront" Quite nice converted old storage houses at the waterfront. Lots of expensive restaurants and 1500+ Shopping Stalls. A big Ferris Wheel and more. Guess nice for a few beers out if you want to spend the Bath!

One of the long tail boats that are waiting for tourists to go on a khlong tour in Bangkok

Cry Baby

Happy Baby

Sunday morning in the street where my guesthouse lives.

Keep the fish cool? Or save some gas as it is slowly steaming in the sun here?

The most expensive food she has is 0.80 €!! And the food is good!!