From Ninh Binh to the Ocean View Homestay in Đồng Hới
Good morning Vietnam!
Another Gray and cold day? I did not really expect it to be nice!
Last breakfast, pack the bag game and everything on the bike. See you in a few weeks friends! Adios.
And I was on the way. Had no real plan where to end up today but further down south was the plan. The day was still young and there is a lot of road to drive all the way to the water down south if one must. I wanted to get towards blue sky and nicer temperatures quick so I stayed on the big roads most of the time. Trucks, Diesel and dust! Some crazy drivers and a few near hits with them later something in my brain told me – why not hit it and drive to Ocean View Homestay? At last it is quiet and clean there! And so I was driving a bit faster than usually and took way less pictures. But on a day like this – most of the pictures would not made it to the Blog anyhow.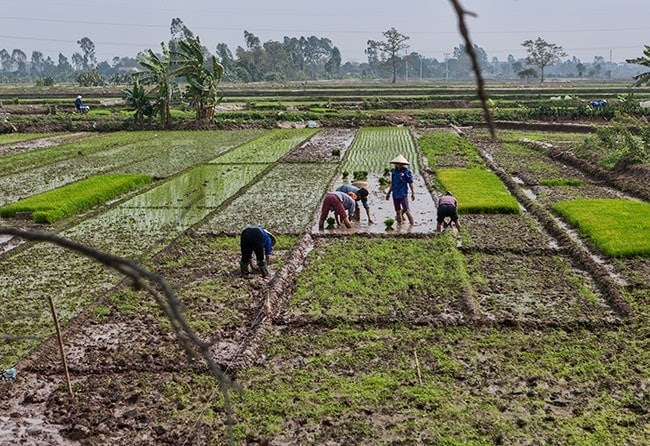 Rice planting in action close to Ninh Binh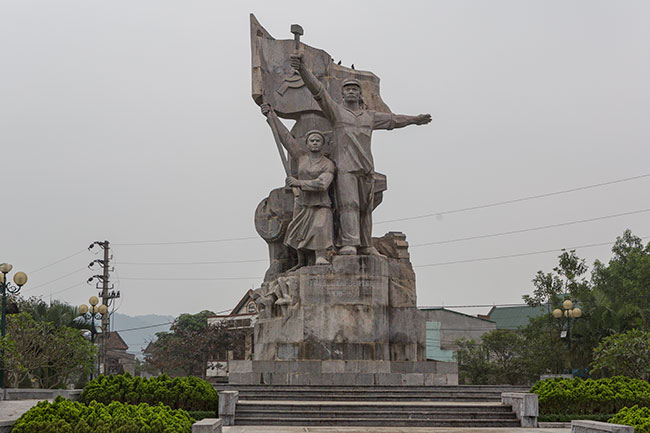 Monument in Thành phố Vinh. Look at the sky. It was like that the whole day :-(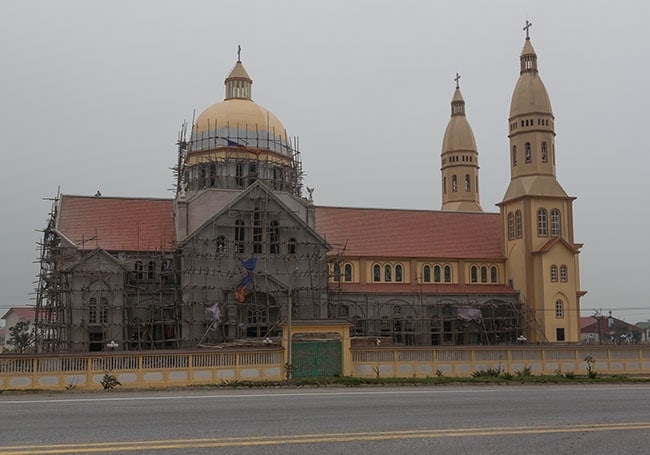 Church close to Kỳ Nam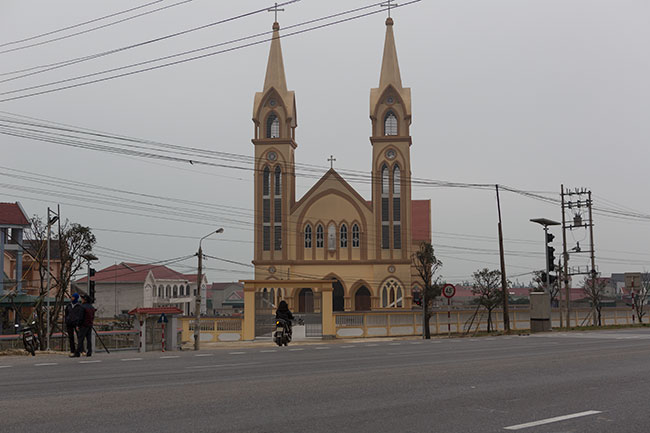 Another Church close to Kỳ Nam
Lots of today's drive was not really pleasant. Not only the same Gray sky that was so Gray you could not even guess where the sun was! There was even some drizzle from time to time. I was really happy when I reached the Ocean View Homestay in Đồng Hới. My favourite down there. Relaxing garden with restaurant and quite. Big clean rooms and friendly staff. And only a few metres from the ocean and from the backpacker place at the beach for sundowners.
Today's Drive
410 Kilometres in 9 hours and 11 minutes with coffee and gas stops
The next Day
Had my Vietnamese slow drip coffee and walked to the beach for a look.

An old bunker on the beach. Once there where no trees so you had a clear line of sight.
Look at all the Gray!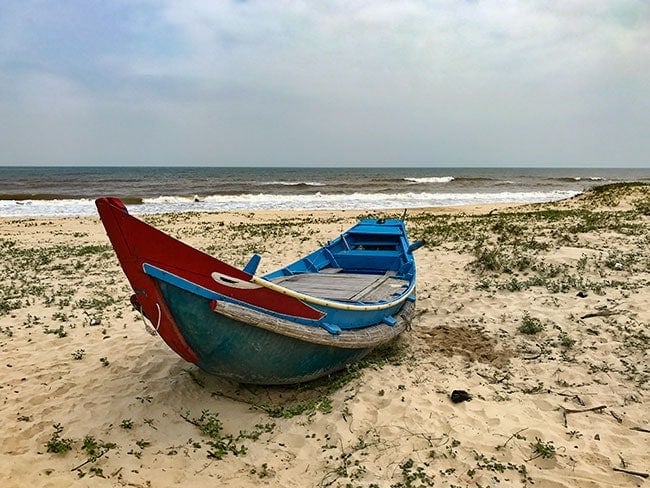 Well looks like I stay in today and do nothing!
The next Day
It was actually quite nice. Blue sky with a hazy overcast but sunny. Great for a bicycle trip down town. They have free bicycles at the Ocean View Homestay.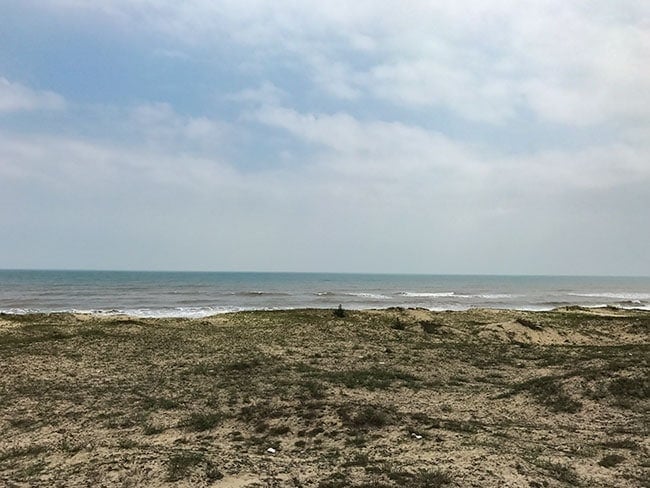 Getting better slowly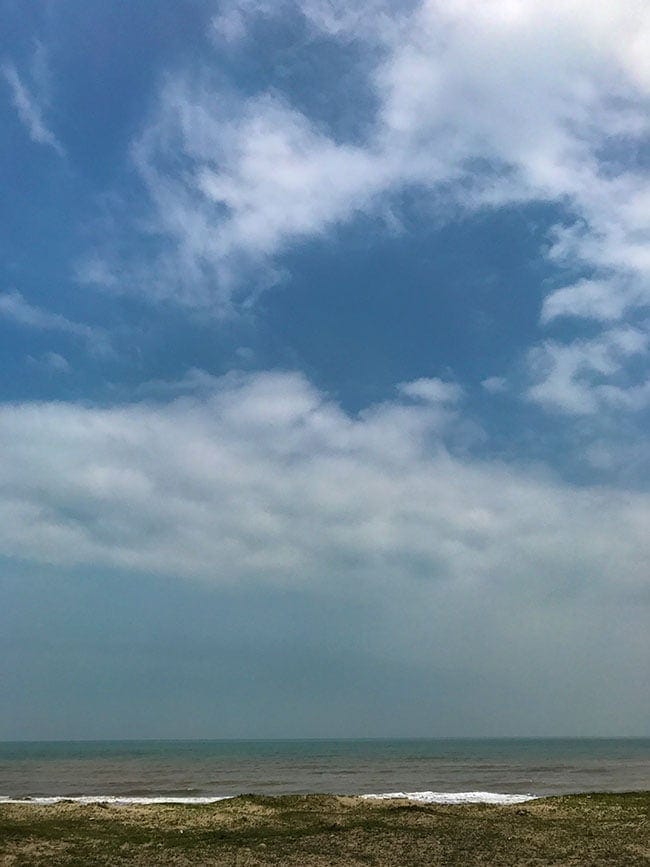 It is blue up there

Advertising for a hotel in Đồng Hới – nice Old School :-)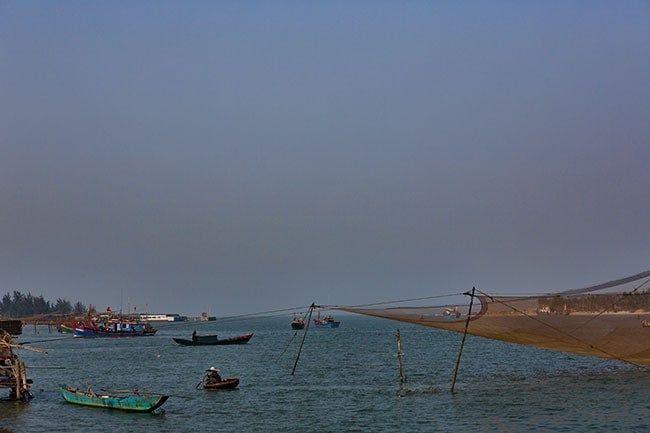 A fisherman paddles back to his hut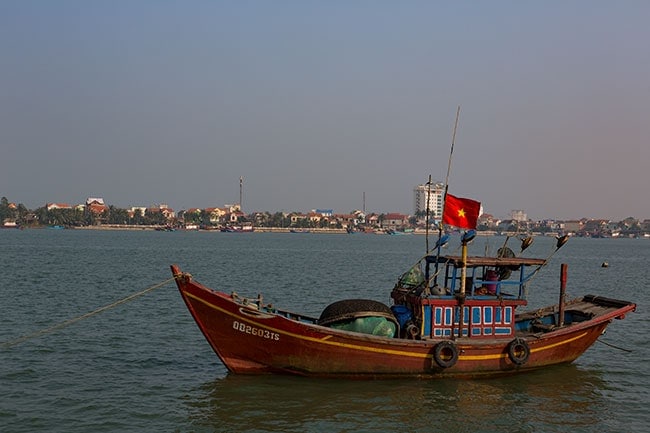 Fishing boat in Đồng Hới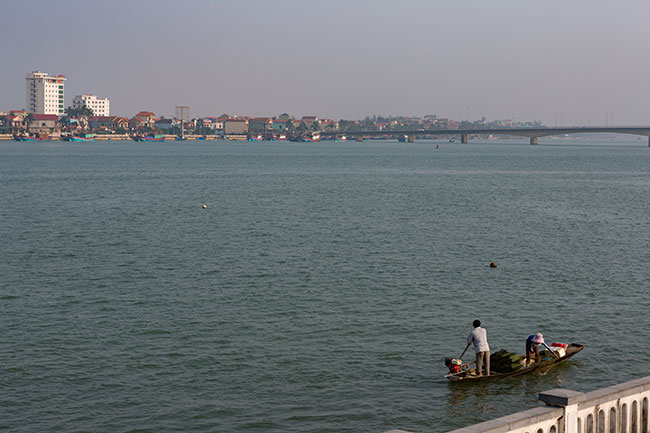 Put the net into the water

Loading ice on the boat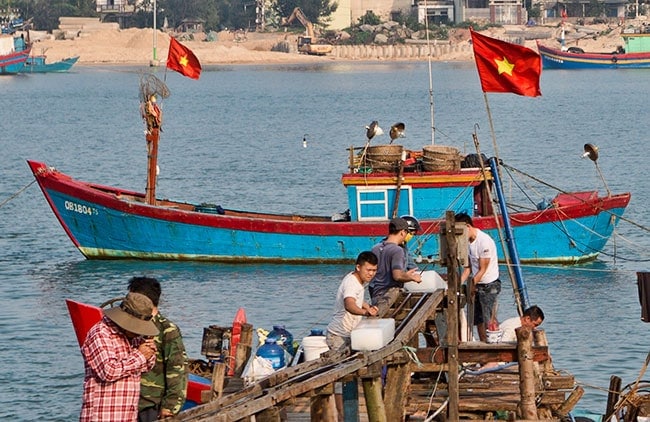 Zoooooom – now you see it too!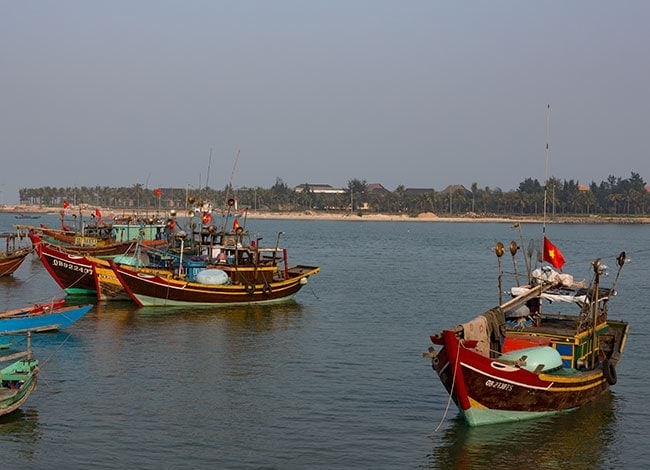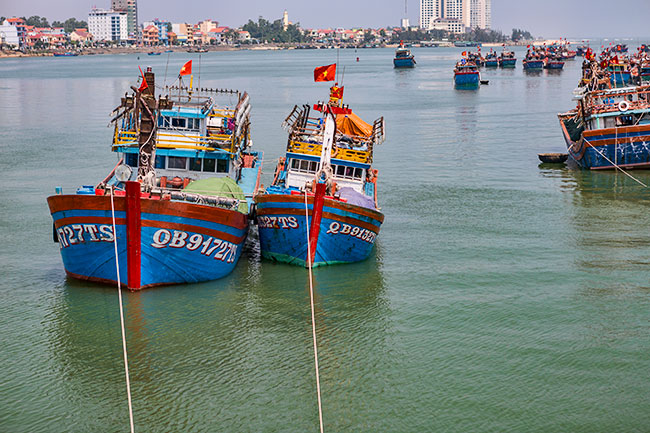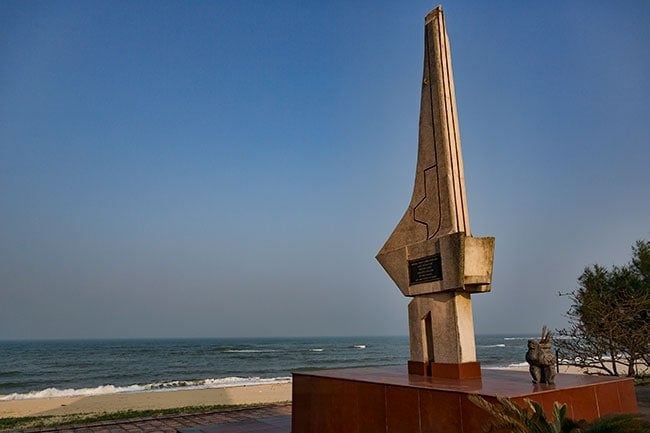 Another one of those monuments. But that makes a fine place to sample some brew and look over the ocean!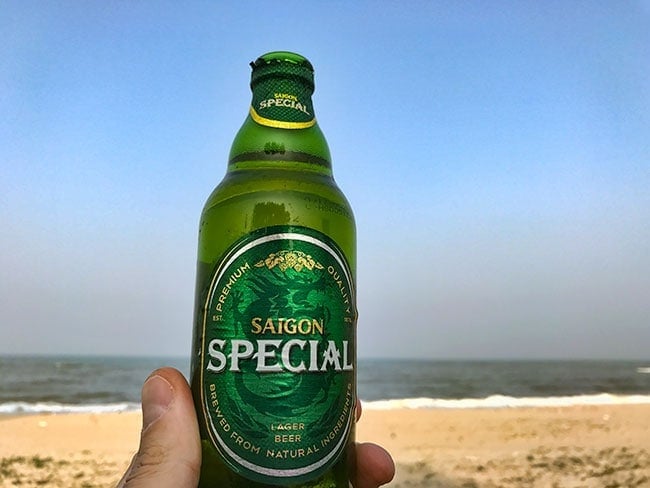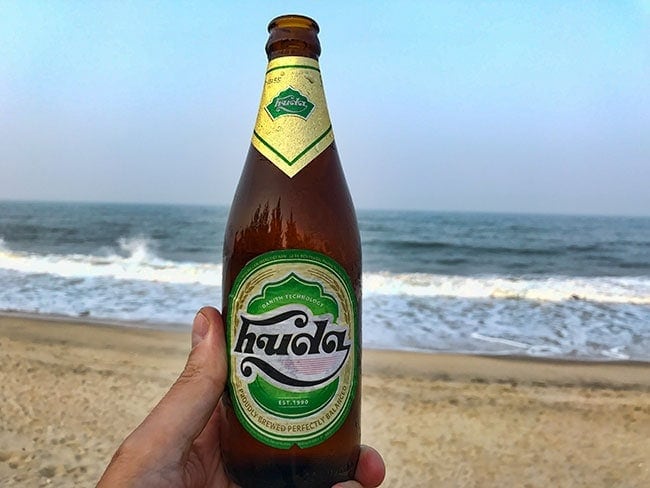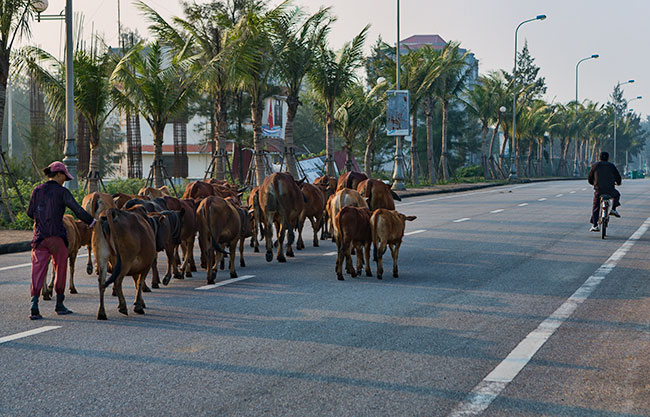 Until the cows come home. Well lets go home as well!
The next Day
The next day I was lazy at the garden for most of the day. In the afternoon I drove up to Phong Nha to help Trang bring down a dog, cat and some stuff. She is the owner of the Ocean View Homestay and has a Bar, Beauty Saloon and Supermarket in Phong Nha now.
The next Day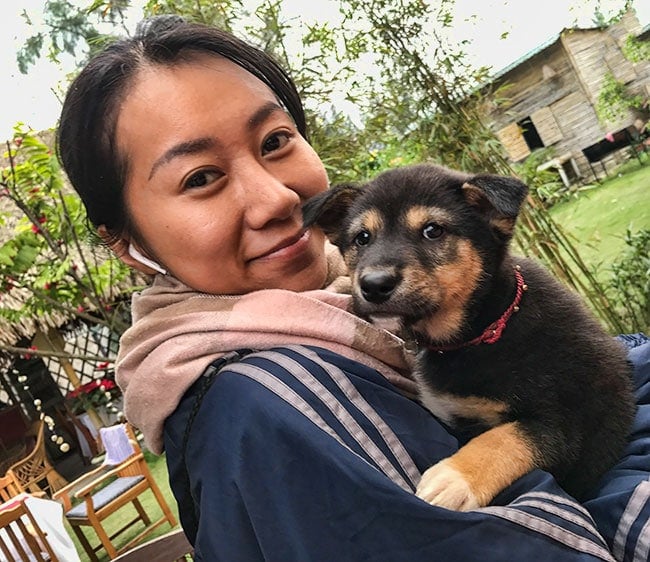 Trang with Peppy. She had to go back to Phong Nha. But she left the dog and a cat as well. I went to the beach again and biked a bit.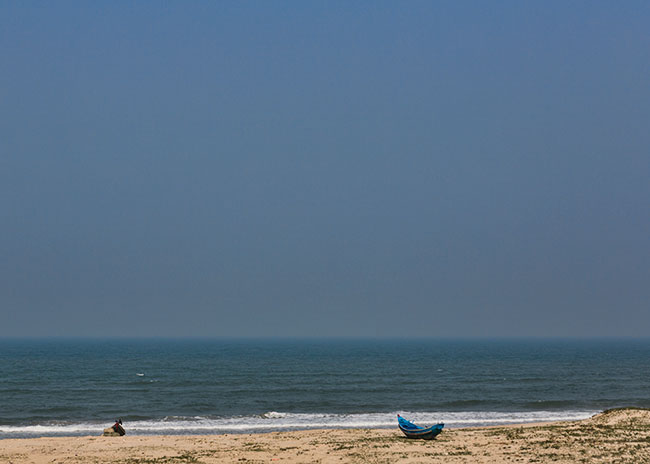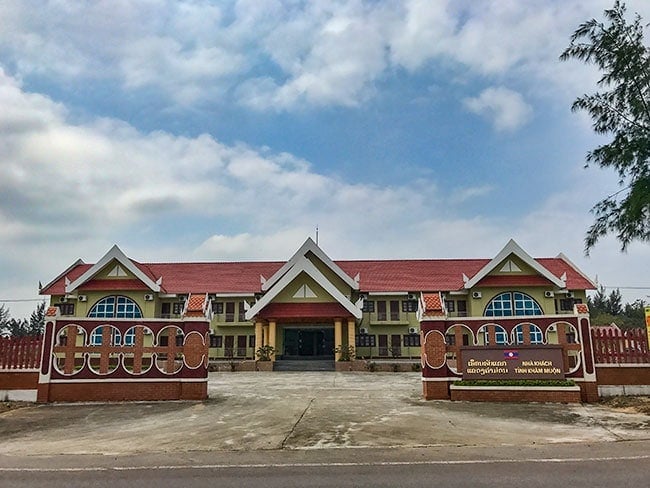 Not too much going on at this hotel Looks like a Vietnamese-Laotian joint venture? The other places looked like this one. Abandoned!

Do you want to stay up to date and not miss a post? Subscribe to the blog on the top right or all the way down on this page!
Support my blog -> Book your room here: