Winter 17/18 – The last Days in Pai
The BLACK HOUSE Sessions
Arno and Jason have rented a house a bit outside of Pai. The house is black – hence the name – you guessed it! Since there are so many musicians in Pai they invite some of them all the time to the house. They make some music videos and Arno posted them on facebook.
The interesting thing is the mix of different styles and ideas. I filmed a few of the videos. If you have time check them out here:
->Ramon & the Hot Gang de Pai – Chocolate Jesus
->Hot Club de Pai – Latcho Drom
->John Taney – Tennessee Whiskey
->Bamboo Tambourine – Belleville Rendezvous
->Saint James Infirmary
->Hot Club de Pai – Misrelu
->Gipsy Fish
There are MANY more videos up! Check out the music love!

Kam Kamil with the Sound Guru

Mr. Guitar Jason and Arno on the bass

2 or 3 rehearsals and they where good to go

It was already getting quite hot in the afternoon

Charly Clerentine on the strings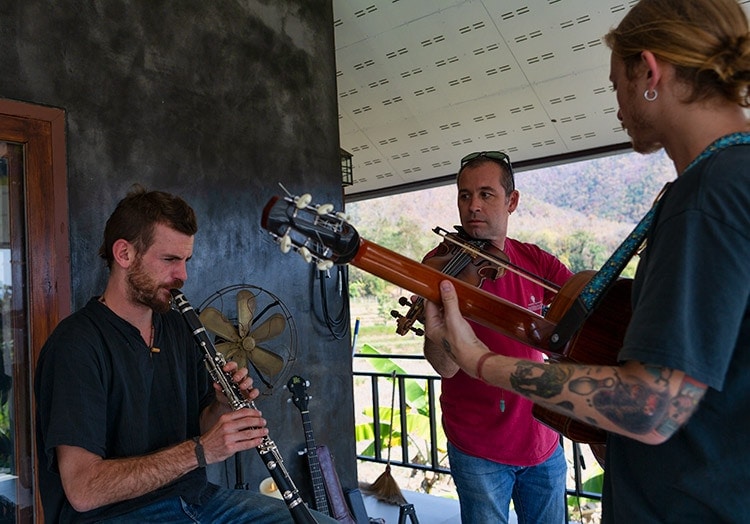 Lots of different styles on that balcony

You never play alone

One more try?

There we go

Norton makes sure the sound is right

Look at this historical MacBook! Still working like a charm

The smoke getting more dense day by day

Ready for action! Camera – lets roll

The big one with Alice Alouette & Oosamu Sakurai as well as the one and only Wiriya Wiseatkun

The interesting thing about the BLACK HOUSE Sessions is the mix of styles and people all the time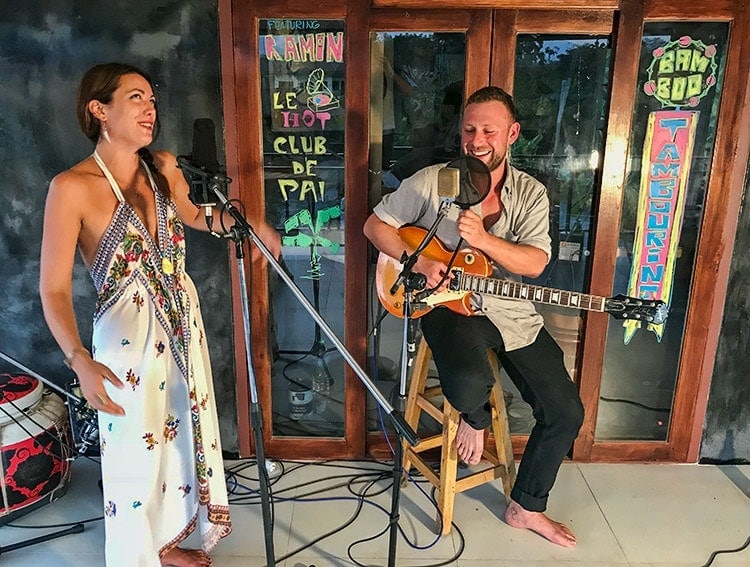 Florence and Sam

Rehersal for a outdoor video

And after everything is recorded there is time for a beer and a smoke and of course we have to listen to the recordings as well
In other News

This cat!

The yellow flower field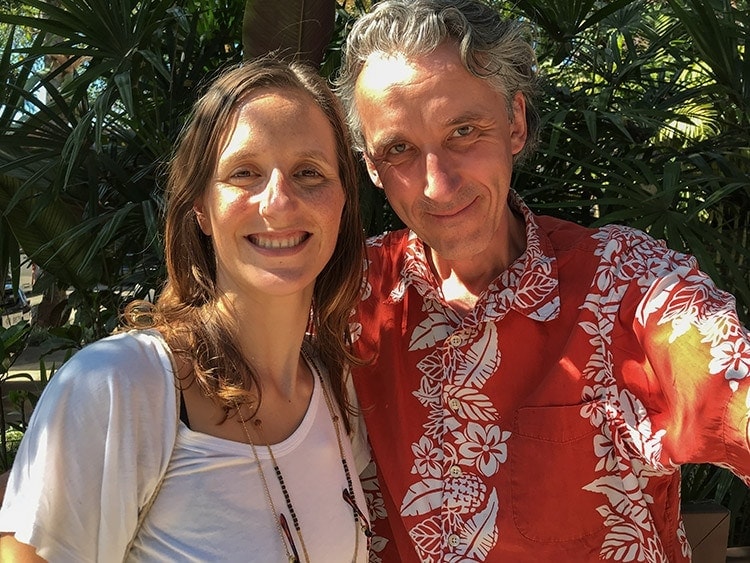 Rahel on her last day before leaving Pai

Another sunset beer in my hammock

Looook

That is what we need! More fires!

Good Morning Pai

Warming up after a cool night

Khao Soi cashew
Picnic at the River

On the way to the waterfall
Dee and Gerben are back in Pai. Of course, the monkey is with them and Dee's brother with his girlfriend. The monkey loves to play in the fresh water so we went a few kilometers upstream for a picnic.

Gerben looks for the best picnic spot

Dee with her brother and his girlfriend

The monkey was so happy in the cold water
Back in Pai again

Just look at this happy face!!

Finally Jose gets his hair done!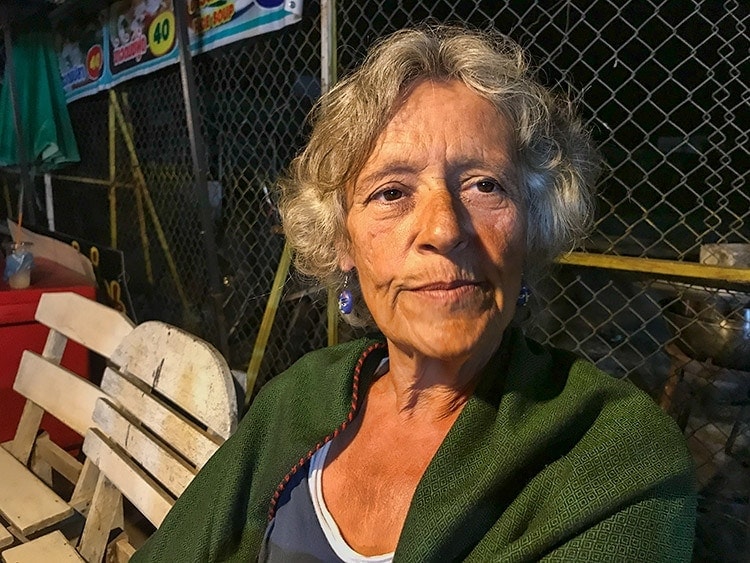 Maria is not so sure about it

Hmmm – do I like it?

You can see the smoke in the valley

Heating up in the morning rays

Morning shower

Yin and Yang

White is hiding inside my bed

Does not look really comfy

Sleep sleep sleep

And more sleep

Best view? From the roof!
Chiang Mai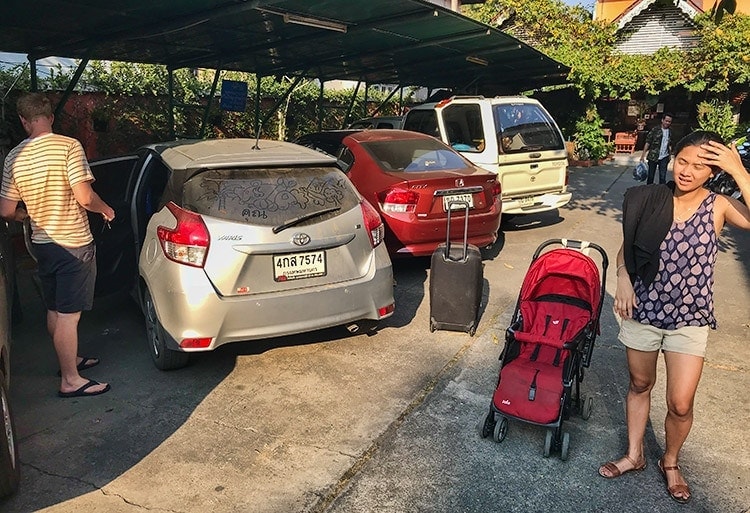 Dee and Gerben gave me a lift to CNX

Look who I found in Chiang Mai!!

Last minute room – well not a lot to expect for that kind of money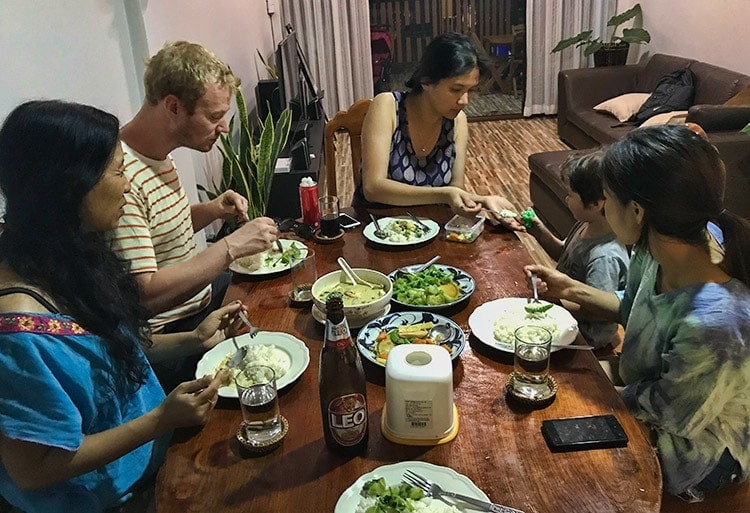 Dinner with friends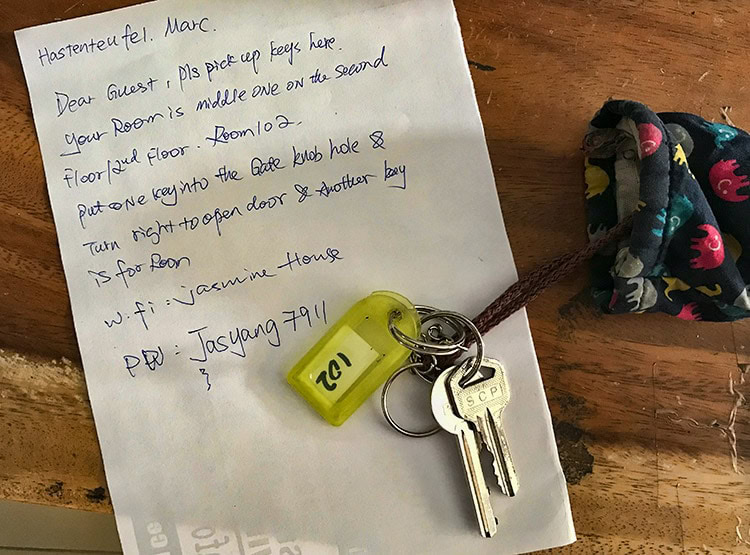 The next day – the guest house I booked in advance

A bit better

And a fan!

Comes at last with a private bathroom

My birthday breakfast

My little birthday party with Nattinee and Khemphirat

There is a new Bear in town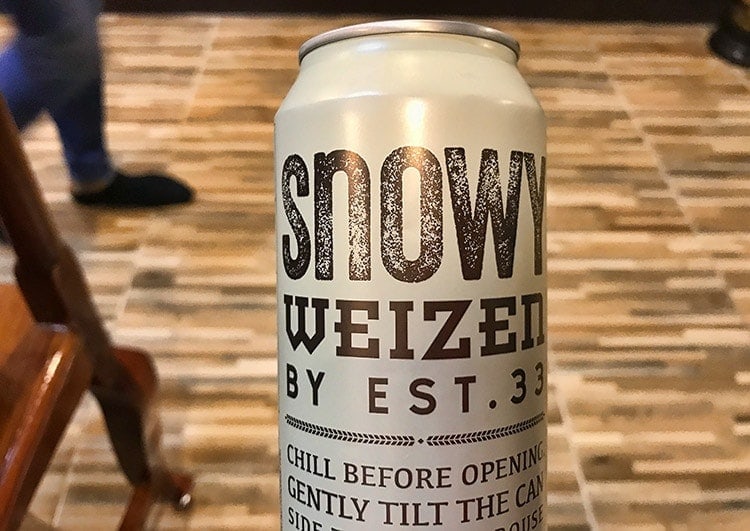 And it is Snowy Weizen