Dee, Jouke and Gerben where in Amsterdam. And I could squeeze a week in. So it was off to Amsterdam once again. They had a caravan on a small camp ground about 8 kilometres from Amsterdam Centraal. Great to do this with my bike!
The Deutsche Bahn BS
So I went online and looked for a train that will get me from Stuttgart to Amsterdam with my bike. There is a little box to click if you want to travel with your bicycle. Great. Now to get there in the afternoon with the bike it was only one nice option. 6 different trains on the way to Amsterdam and 5 different trains on the way back to Stuttgart. Really??
Well I did book and wanted to pay the 98€ but you can not print that ticket and they do not send it to the App as well. They only send you a paper ticket for another 3,90€.
After I booked I was not sure where my bike was on the ticket so I did email Deutsche Bahn. Turns out you can NOT book the bike online. You have to call them or go to the station. So I went to the station only to find out that 2 of the trains where full and I can only travel without the bike! WTF??
The woman at the counter was looking into her computer to tell me that but I can not book it from home? Why is there this stupid box and nobody tell me that I can not book it from home? Grrrrrrrr. Of course I can not give back the ticket for free as well. So train hopping it was.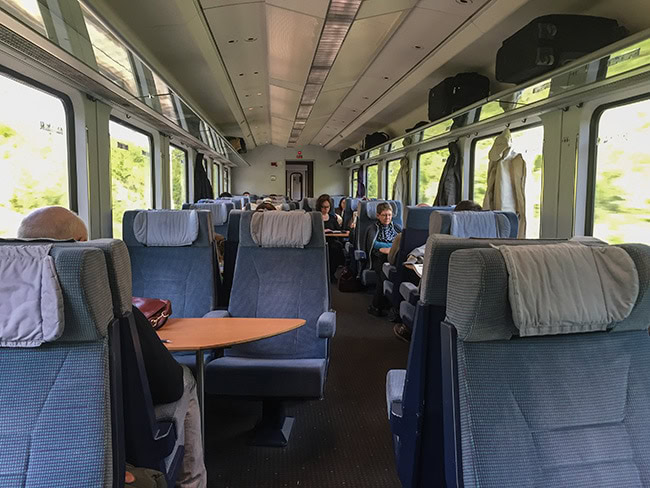 The first train – never been in one of those but really comfortable and a lot of space. They should have more of them!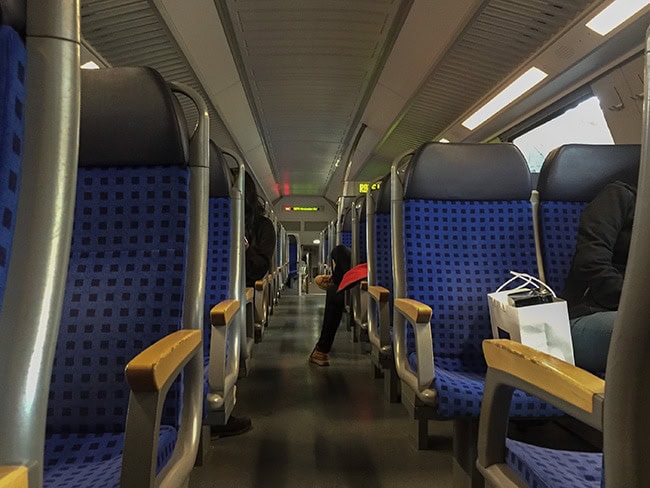 This one was quite boring but OK with a lot of space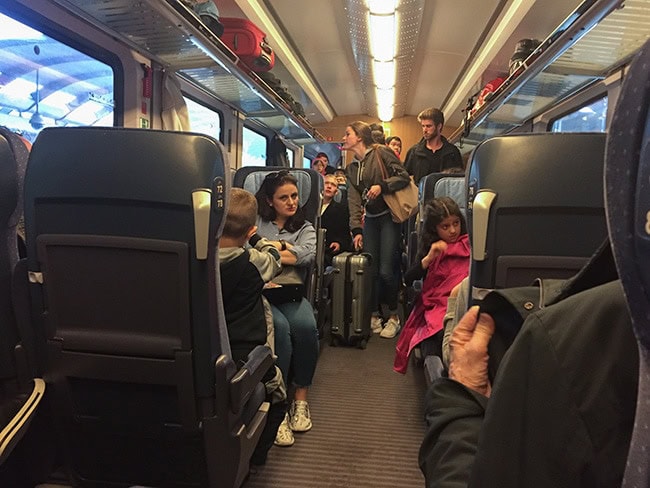 The next one: not to bad but full.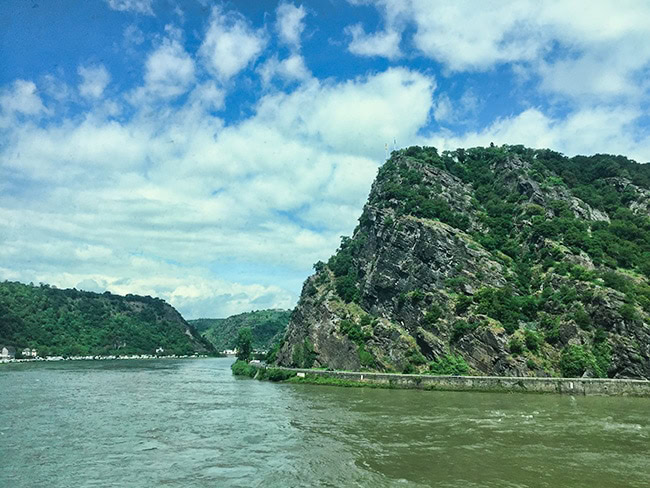 Along the river Rhein. Might be the best part in the German rail system. I love to go along that river valley and look for castles and dart through the small villages.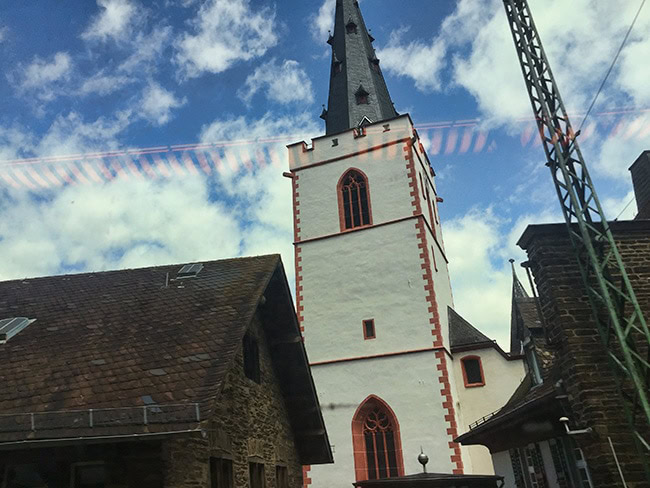 Since there is not a lot of space between the river and the hill the tracks cut right through the little villages.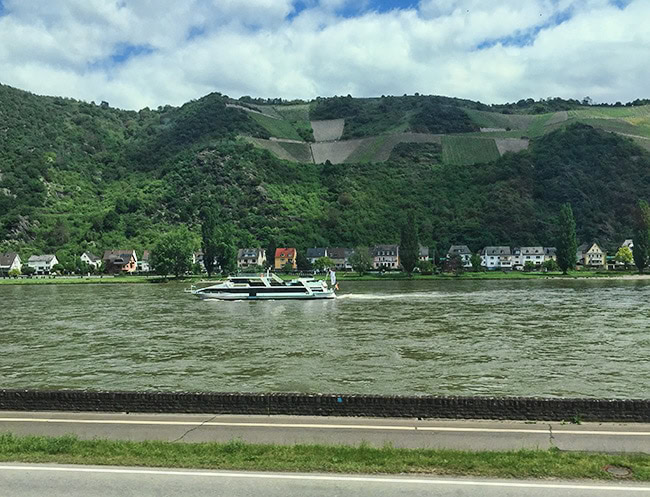 Lots of cruise ships on the Rhine.

And lots of castles on the hills. This one does look like it will fall soon? Strange!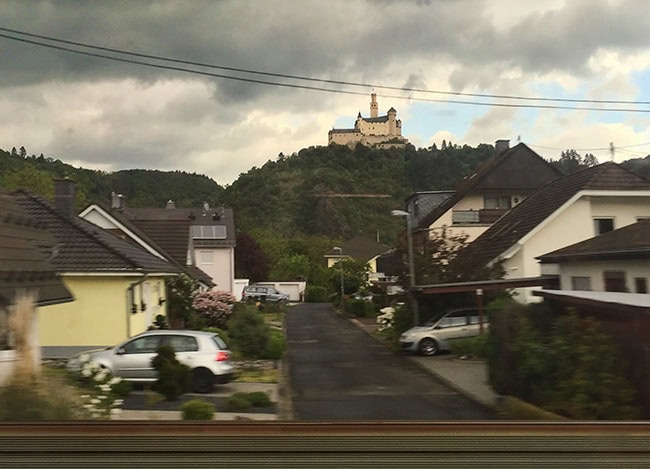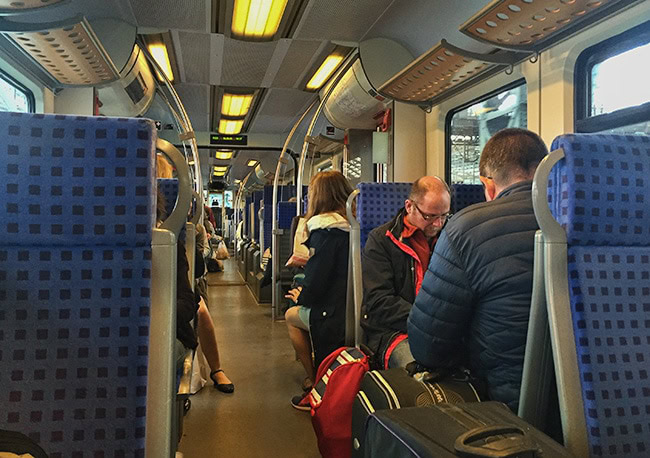 The last German train for today. It will bring me over the border. No way somebody with a lot of luggage would have made it since there where only minutes in between.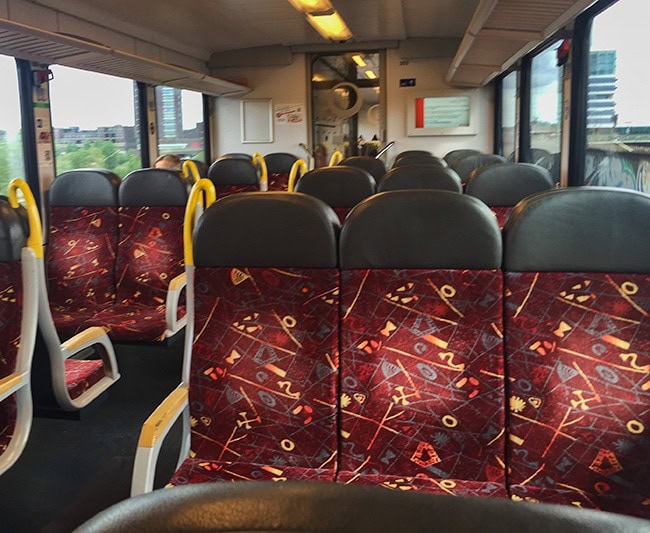 Not a lot of space for fat people in the Dutch train. But free WiFi!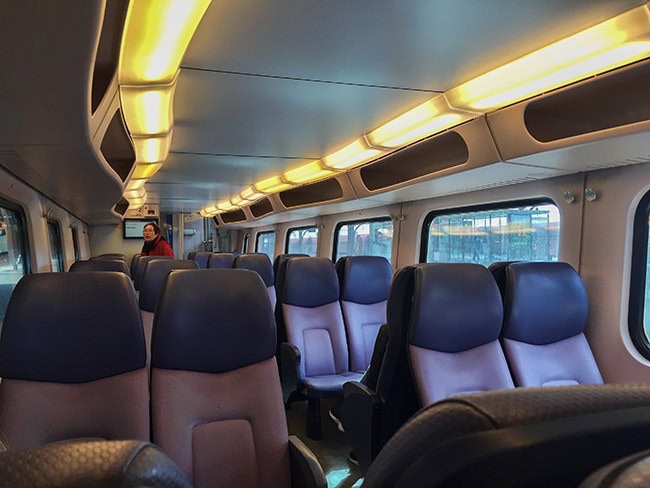 The last train for today – right into Amsterdam Centraal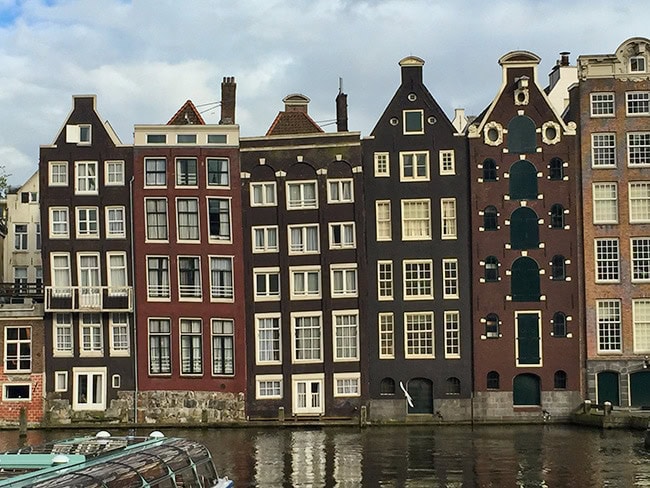 Slowly they sink into the water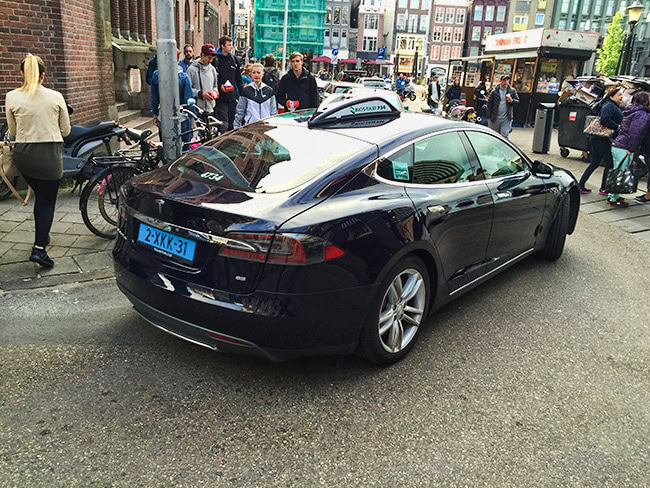 OK – this is a 80.000€ plus Taxi. Sure we have a lot of E Class and some S Class Mercedes cabs on the road. But I never saw a Tesla Taxi. And on that day alone I did see 7 more. Turns out that they have a total exemption of the registration fee and road taxes for 5 years if you have a corporation. Saves you about 19.000€. Charging and parking in Amsterdam is free for you at the charging stations. Plus an extra subsidy of 5.000€ if the car will be a Taxi. Plus there are reserved parking spots and if you have your flat in Amsterdam that could save you a 10 year wait for a spot if you have an electric car. Makes sense – a lot!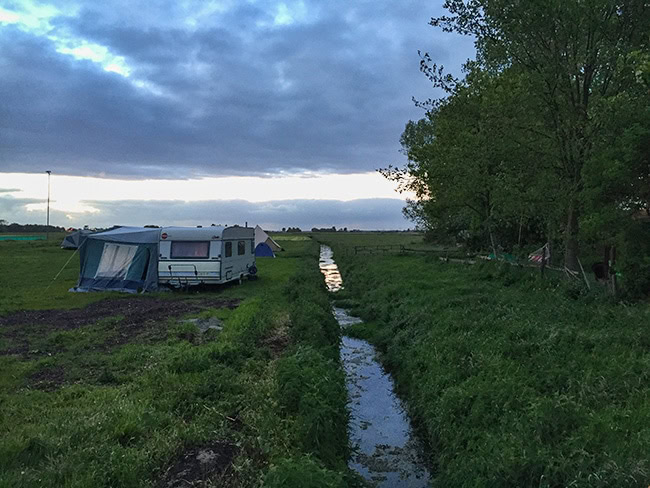 Walked to the market where the guys did sell today. Helped to get everything in the van and we where off to the camp ground. A very small place only a few kilometres away from the city center. In the far distance you could see the light of the cars on the highway but it was quite and green. And only a hand full of other campers – great!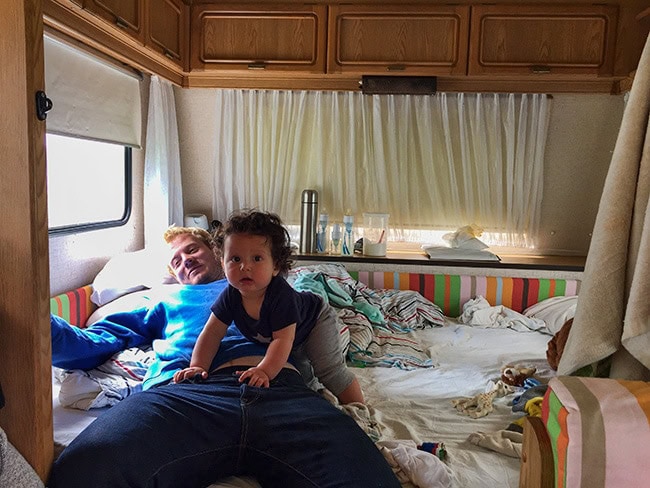 Gerben & Jouke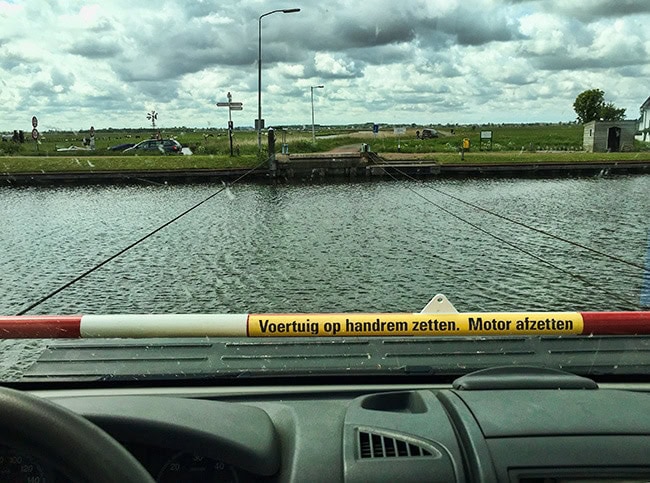 We took a small trip on their free day to see some country side – took this picture on a one car ferry – 2€ one way.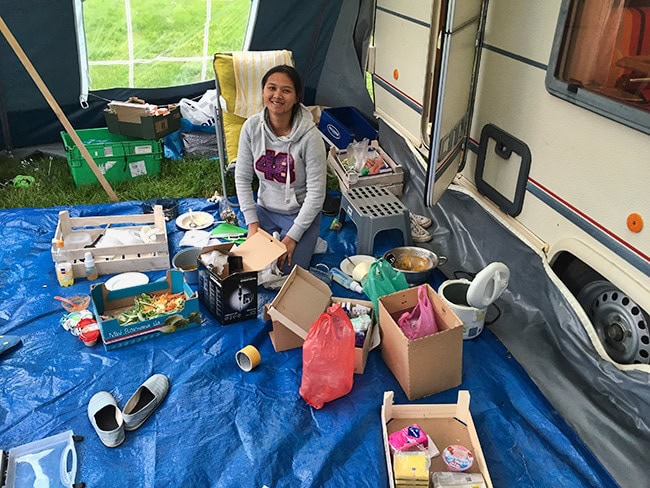 Dee got a new kitchen machine and was so happy. Somehow she likes to work in front of the door so it gets tricky to get into the camper.

My morning cup o Joe. The gang left quite early every morning – way to early for me. I did sleep, had some breakfast and a second cup of coffee with my emails. After that it was time to shower and get dressed. I walked a few different routes towards the inner city and took a few ferries over the water. That way it never got boring. Took me about 60-80 minutes to reach the train station or one of the markets.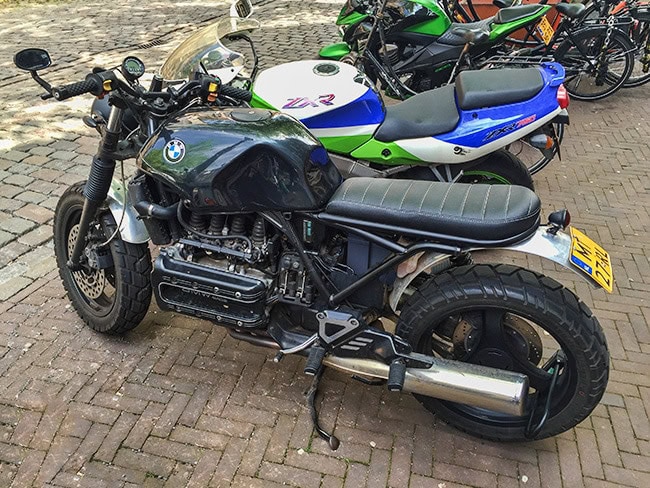 Cool BMW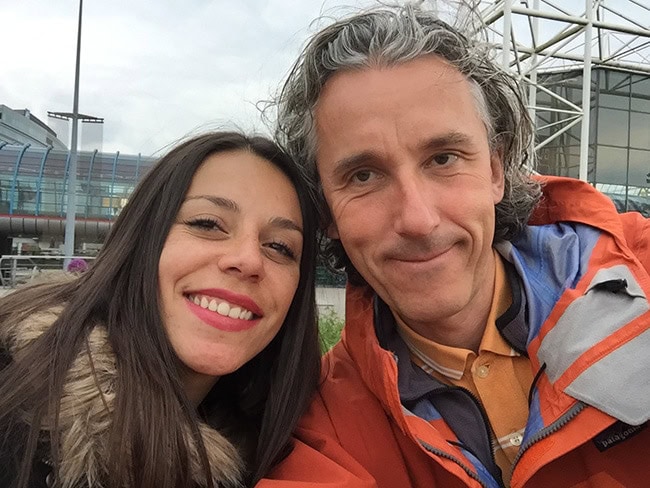 Did meet Lina in Amsterdam – we did meet each other in New Yorc City while helping Zack at his film project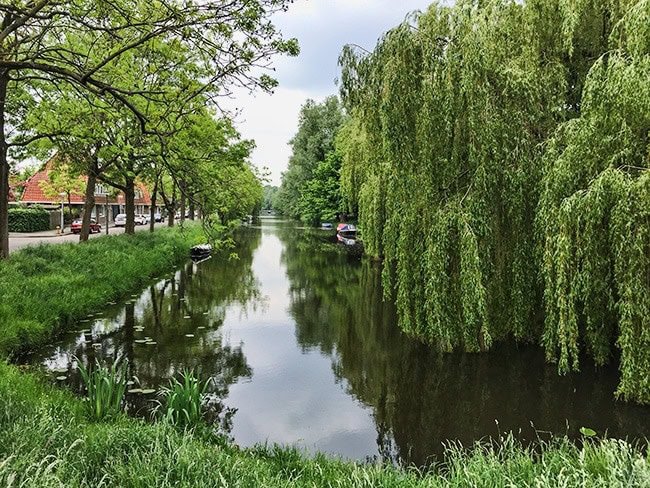 On the way to the ferry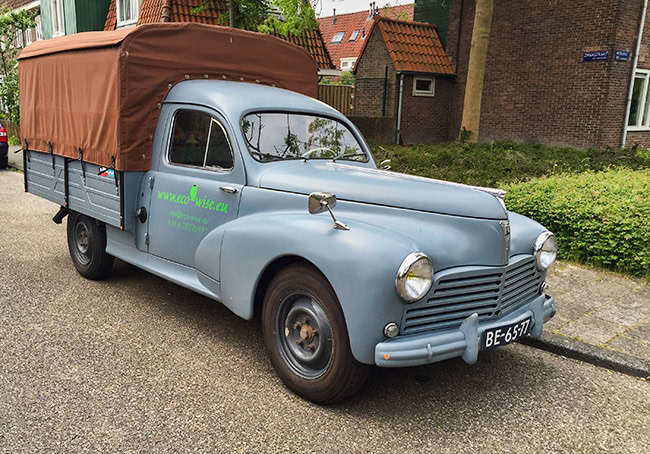 Old Peugeot 203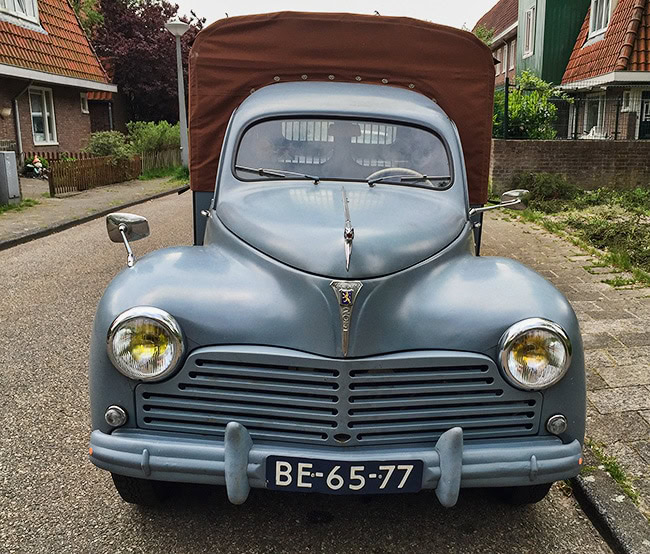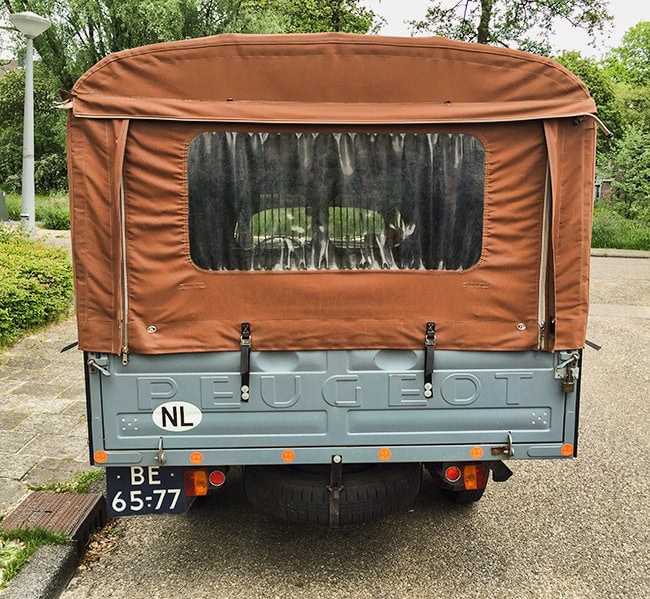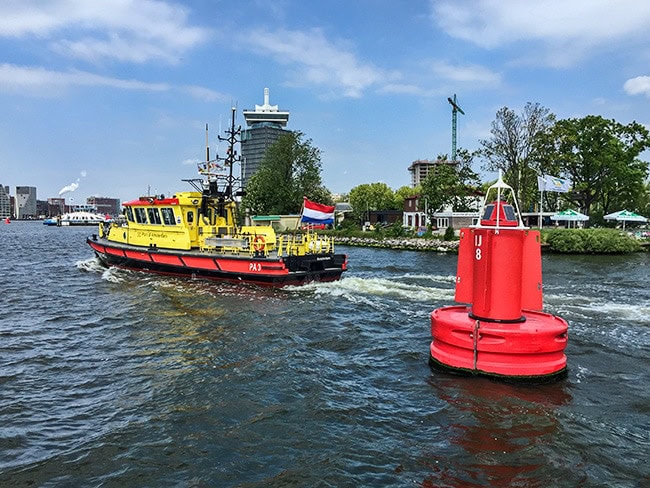 On the ferry to Amsterdam Centraal

Do you want to stay up to date and not miss a post? Subscribe to the blog on the top right or all the way down on this page!
Support my blog -> Book your room here: