Athens to Stuttgart Road Trip Part 2 – Athens
A few days to relax and roam Athens before our road trip. Took a bike with Mitsos and we drove a bit in the centre.
Athens Graffiti
I love the Graffiti in Athens. It is everywhere and there so many great pieces all over the place.
Palaio Faliro
In the evening we stopped at Mitsos mothers place in Palaio Faliro. Walked down to the water and to the Marina

One of the few old houses left in Athens

The rest looks very much same same but different

Church of St. Alexander

The human looks at the sun

The cat looks at the human

Submarine Memorial
A visit at the Flisvos Marina

Flisvos Marina – something different from the usual Athens walks. 303 stern-to berths and half of them for super yachts.
You find more information here: http://www.flisvosmarina.com/en-us/

The Samurai was once a record-breaking racer and was later refitted as a super yacht. Before it was rebuilt the boat was known as the Mari-Cha IV. The 42.4-metre schooner's sole purpose was to set speed and distance records. She broke the transatlantic record and the longest distance in 24 hours. She also won the Rolex Transatlantic Challenge, broke the Guadeloupe to Antigua record and the Hawaii Pacific Ocean record!
You find a good article at www.boatinternational.com

The Al Salamah. Build in 1999 with a makeover in 2009. A crew of 96 takes care of up to 40 guests.

The Crown Prince of Bahrain is the owner of the yacht Al Salamah. Al Salamah was built by Lurssen in Germany for the late Prince Sultan of Saudi Arabia.

If you want to park a boat like this here for a year it will set you back a bit over 1 Million €. More information on the yacht: Wikipedia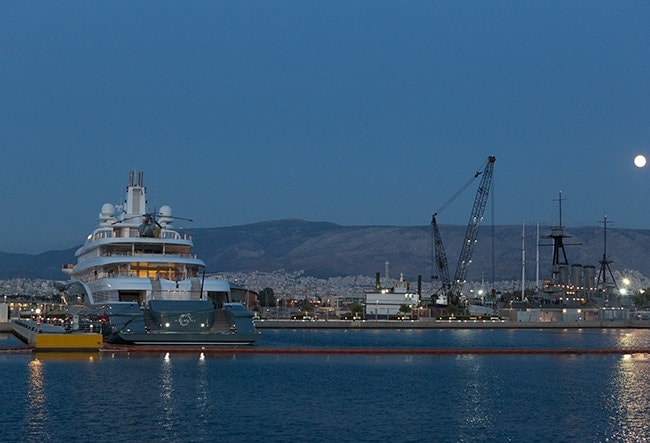 The Radiant – I saw her a few weeks ago in Malaga

View from the restaurants

Some more art on the way home

The last picture for this post