On the Ho Chi Minh Road from Phong Nha to Phố Châu
A Gray morning after a good nights sleep at the Mountain View Hotel in Phong Nha. Today I wanted to drive further up North to Phố Châu.
Switched on the boiler and flipped open the MacBook. Catching up with the world events and emails from last night. After a few emails the water was hot and I took my shower.
Went down to the restaurant for breakfast later. They serve tea or coffee and the usual Baguette with egg and a few Bananas for desert. I opted for coffee as usually – the slow drip Vietnamese coffee. But ordered tomatoes instead of egg. That was new for the owner. So she came with 2 tomatoes and showed them to me. "Tomatoes?" Yes! Ha ha – you should see the lock she gave me :-)
After I put my stuff on the bike and settled the bill I was off toward the Ho Chi Minh Road.

Crossing the bridge towards the QL15 I stopped for a look back at Phong Nha.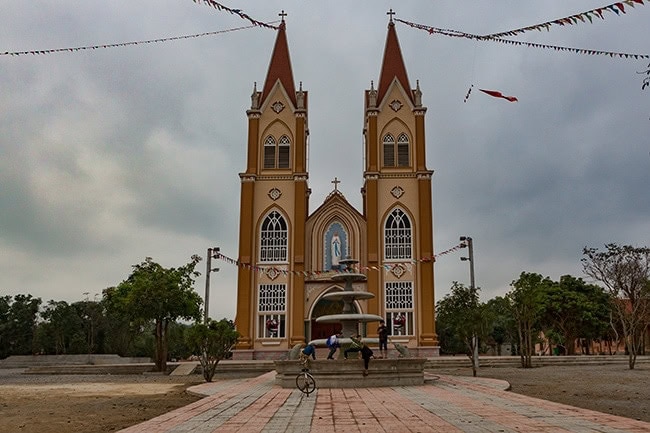 Nhà Thờ Giáo in the next village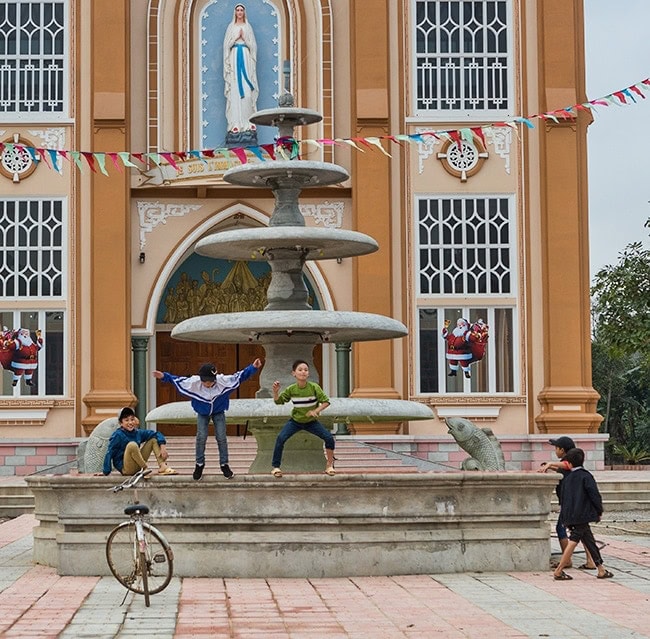 Kids always put on a show if you have the camera out

Nhà Thờ Giáo Họ Vĩnh Sơn – GX Khe Gát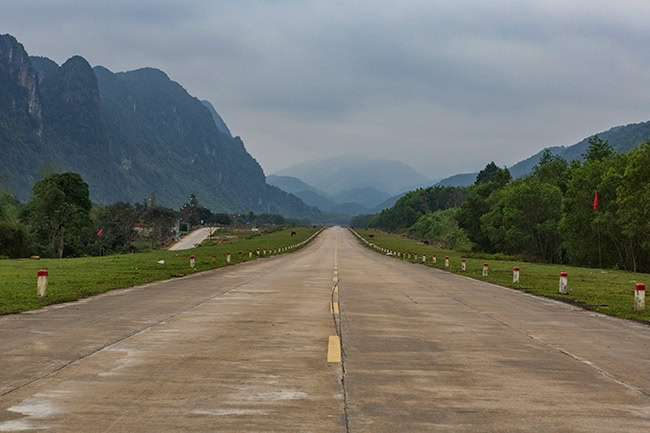 Finally open road toward the mountains. It looks like last year – Gray and limited visibility. And sure enough a few minutes later it started to rain again. Stopped in a small market town and got a rain poncho. Of course it was way to small but I was dry all the way down to the knees! And shielded from the cold as well.
Did not take a lot of pictures since it rained for most of the day. BUT I have some for you in the post from last year: http://hastenteufel.name/blog/from-phong-nha-to-tinh-ha-tinh/.

Nhà thờ Giáo họ Tân Phương in Hương Khê
Phố Châu
Went to the same hotel as last year. The Ly Ha Hotel in Phố Châu. Only this time I got the room in the second floor. My old room was occupied by Ashley from Canada.

My room at the Ly Ha Hotel in Phố Châu. 8€ with fridge, AC, fan, closet, table, chairs, kettle and private bathroom with hot shower. The room is not to big but for a few nights perfect.

The bathroom. Small but everything I need
Affter setteling in I went down to do some shopping and the manager was sitting there. I said "Hello" and "I remember you from last year". Took him a few seconds to remember but in no time I was sitting next to him with some fresh tea.
Later he went with Ashley and me to a local coffee shop for some refreshment.
After that Ashley went for dinner and he took me to a temple that had some celebration going on. I did not really understand what was going on but there where many people and since I was the only foreigner you can imagine the whole thing.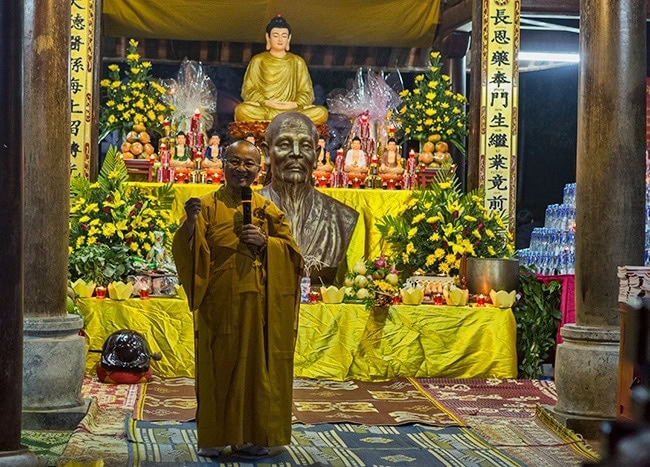 At a temple close to Phố Châu. This guy was the important speaker this evening.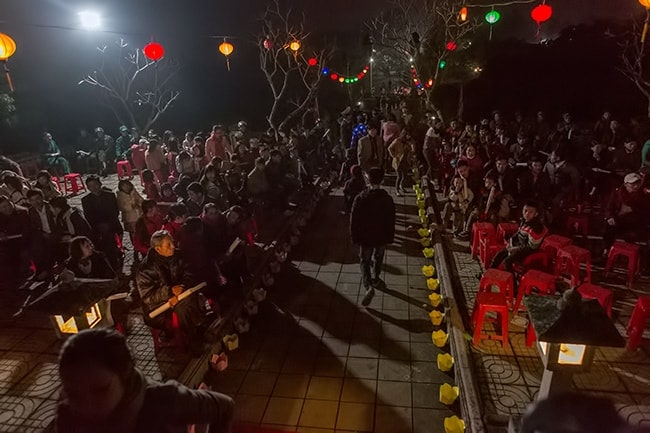 Facebook live stream!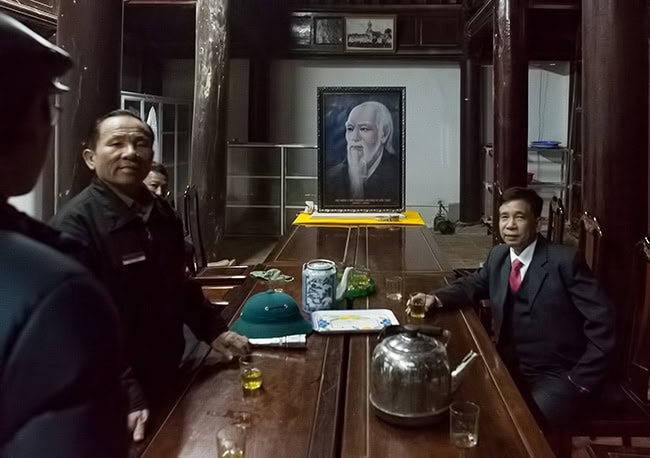 Tea with some important guys at the entrance building. They took lots of pictures with me as well.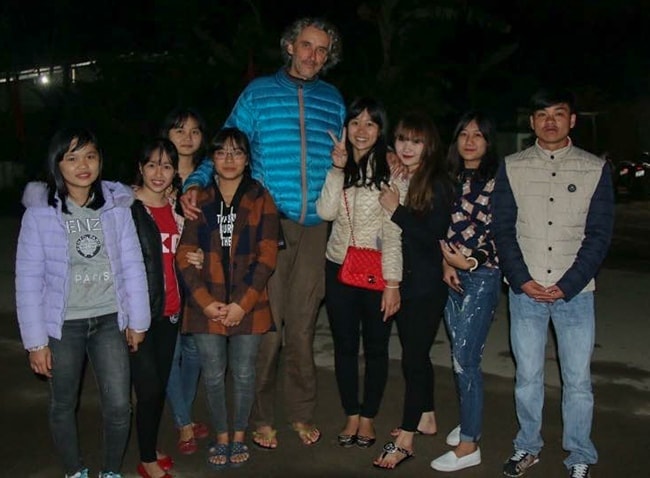 And the usual pictures at the parking lot. It is so easy to make people happy over here :-)
Todays Drive
191 km in 6 hours and 44 minutes including lunch, photo stops as well as a Gas stop
Do you want to stay up to date and not miss a post?
Subscribe to the blog on the top right or all the way down on this page!
Support my blog -> Book your room here: